Are you looking for hikes close to Denver that are easy for beginners? There are so many options to choose from for those just getting started hiking. We've narrowed down the top 10 easy hikes for those of you who may be either new to hiking or who are hoping to experience some beautiful scenery without a lot of hard work. These are ordered in general order of difficulty so that new hikers can build up their strength as they finish each one on the list. Be sure to download our Free Hiking Guide to help you prepare and pack smart for your dayhikes.
Distance: 0.6 & 0.8 Mile Loops

Difficulty: Easy

Drive Time from Denver: 30 Minutes

Lookout Mountain Park has two loop easy trails that wind through the ponderosa pines in the foothills above Golden, Colorado. Combine the loops for a longer hike. You'll find this to be a great place to take young children who may be new to hiking. The Nature Center at Lookout Mountain Park is a great place to learn about the environment and wildlife near Denver. If you want to make a day of it, bring a picnic lunch, then take a self-guided tour of the nearby historic Boettcher Mansion. We placed this one as first on the list because it's easiest for families with kids. For adults, you may want to jump straight to number two, the Trading Post Trail at Red Rocks Park.

Distance: 1.4 Mile Loop

Difficulty: Easy

Drive Time from Denver: 30 Minutes

The Trading Post trail is my #1 recommended hike for those who are getting started with hiking in Denver. It's also my top hike for those who are visiting Denver from out of town. Why? It's just 25 minutes from the city center, is relatively a flat hike, you have red rock formations surrounding you the entire time, and you have more options after the hike. So, if you find that after hiking the loop once, you would like more of a challenge you can: hike it again, hike up into the amphitheater, or try out the nearby Red Rocks Trail.

Distance: 6.2-Mile trail to the Strontia Springs Dam, or 12.4 Round Trip

Difficulty: Easy to Moderate

Drive Time from Denver: 35 Minutes

Waterton Canyon is a perfect next step in difficulty. The trail is actually a dirt access road that weaves its way through the canyon up to Strontia Springs Reservoir. The reason I put this third on the list is that it gets increasingly steep as you go further into the canyon, but it never gets demanding. You can go as far as you feel like your legs can take you, then turn around when you've seen enough. It's an inviting path that always beckons you to got a bit further to discover what's beyond the next bend. The South Platte River flows on the southern side of the trail and wildlife can be spotted on the mountainsides and skies above. Be sure to pack the sunscreen and bring a hat as Waterton Canyon leaves you exposed to a lot of sun.

Distance: 0.5 Mile to 3 Miles

Difficulty: Easy

Drive Time from Denver: 30 Minutes

Our fourth recommendation is one of my personal favorites. South Valley Park is hidden behind the hogbacks in Littleton, Colorado. There are 6 trails that make their way through the Red Rock formations in South Valley, giving you a lot of options. All trails are easy to moderate, making South Valley a perfect place for beginner hikers. Don't miss the Coyote Song trail.

Distance: 2.3-Mile Loop

Difficulty: Easy

Drive Time from Denver: 45 Minutes

The Fountain Valley Trail is so stunning that you might just forget any aches and pains you've earned from your initial hikes. While both Red Rocks Park and South Valley have some great formations, the most spectacular are found here in Roxborough State Park. Roxborough does require either a parks pass or day pass for access, and no dogs are allowed in the park. If you still have some energy in you after hiking through Fountain Valley, you can explore some of the other areas on the south end of the park.

Distance: 18 Trails: 0.2 to 10+ Miles

Difficulty: Easy

Drive Time from Denver: 40 Minutes

Alderfer and Three Sisters Park has over 10 miles of trails that provide you with a good opportunity to take your game up a notch. There are no real demanding trails, but you'll find some rises enough to push you more than the earlier hikes in this set. With so many intersecting trails and so many beautiful views, Alderfer provides an open field of possibilities. This is a perfect park for those who are in a transitional place with their hiking.

---

---

Distance: 4.9-Mile Lollipop

Difficulty: Moderate

Drive Time from Denver: 25 Minutes

Mt. Galbraith is the first hike in this set with some elevation gain. The first couple segments of this lollipop loop hike outside Golden, Colorado will require more effort, but the views are worth it. Mt. Galbraith has become heavily traveled on the weekends, so the parking area fills up fast. If you find that the lot is full, travel a few miles further down the road to White Ranch Park to hike a loop we've profiled called the sunset loop.

Distance: 4 Miles Round Trip

Difficulty: Easy

Drive Time from Denver: 2 Hours 50 Minutes

The first seven hikes in this easy beginner hikes set are within about 45 minutes of Denver, but Monarch Lake is a good three hour drive. We've included it in this set for those of you who are looking to make a day of it. The drive out to Monarch Lake take you over Berthoud Pass, through Winter Park, and into the western side of the Front Range. The like is relatively level and offers views of the mountains that will take your breath away. The dirt access road can get a bit wearing, so be prepared for the drive in–2WD works just fine most of the year. This is a great family hike, and a makes for a great day exploring from friends who may be visiting from out-of-town.

Distance: 2.5-Mile Loop

Difficulty: Easy to Moderate

Drive Time from Denver: 1 Hour

The Raccoon Loop will expose you to the heart of Golden Gate Canyon State Park, located about 1 hour from Denver. There are a myriad of hiking trails in the park, and this is a great place to start. There trail rambles through Aspen laden meadows and along mountain brooks. Hikers will encounter a variety of wildflowers, like pink lady slippers, and spot raptors flying above the green and grey faces of the surrounding foothills.
Distance: 3.6 Miles Round Trip
Difficulty: Moderate
Drive Time from Denver: 2 Hours
If you were to take just one hike in Rocky Mountain National park–one that's not too demanding–then the hike up to Emerald Lake is tops. You'll pass cascades and three other sub-alpine lakes along the way to Emerald. The hike turns into a perfect snowshoeing opportunity in the winter months. By the time you've completed the hikes previous in this list, you've likely built both some muscle and stamina. And you may be ready for more. So, be sure to check out our full list of over 50 hikes in Rocky Mountain National Park.
---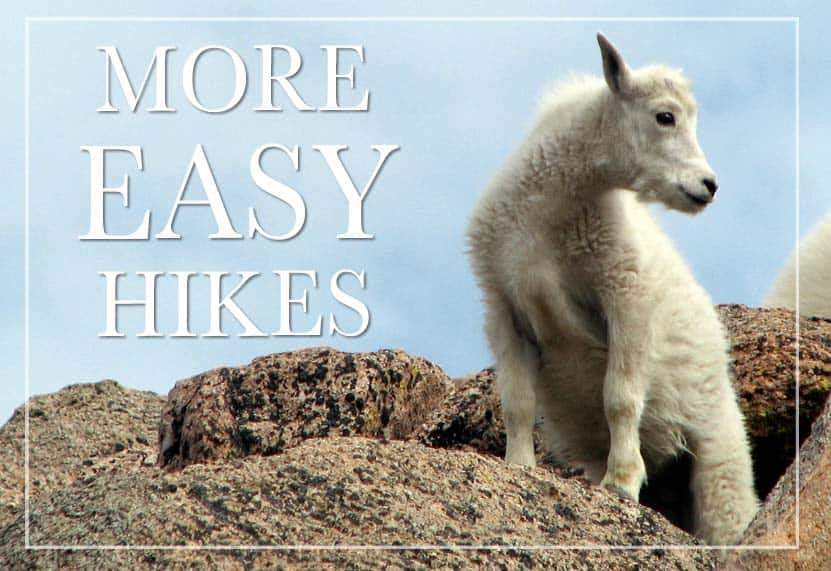 ---
---
Aaron Johnson has been hiking in Colorado for over 20 years. The owner and editor of Dayhikes Near Denver, Aaron writes every trail profile as a local guide who has hiked hundreds of miles of trails along the Front Range and deep in the Rocky Mountains of Colorado.