Emerald Lake is one of the most accessible hikes in Rocky Mountain National Park. If you are visiting RMNP, and have limited time to visit, the trail to Emerald Lake is an excellent option. You'll pass both Dream Lake and Nymph lake before you end your hike at Emerald Lake and it's stunning views of Hallet Peak. For more information on this hike, explore the trail profile which includes trail map, driving directions, and helpful tips and resources to enjoy this Colorado hike in Rocky Mountain National Park.
Trail Snapshot:Emerald Lake in Rocky Mountain National Park
| | |
| --- | --- |
| Hike Distance | 3.6 Miles Round Trip |
| Difficulty | Easy to Moderate |
| Duration | Approx 2-3hr Round Trip |
| Trail Type | Out and Back |
| Elevation Gain | Approx. +605′ |
| Seasons | All Year |
| Dogs | Not Allowed in RMNP |
| Hike Trail Map | Click for a Trail Map |
| Denver Drive Time | 1 hr 45 min |
| Directions | Click for Google Map |
| Town Nearest Hike | Estes Park, Colorado |
| Beauty | Lakes, Cascade Waterfalls, Wildlife: Abert's Squirrel, Birds, Bears, Elk |
| Activities | Hiking, Snowshoeing, Fishing |
| Fee | Park Pass Required |
A Colorado Hike with a lot of bang for the buck. What we mean is that there is a lot to see on this 1.8 miles stretch of trail. Starting at Bear Lake, you'll take in a total of four Colorado lakes, and pass a small waterfall near the top of the trail. If you are looking for a handicap accessible hike, the trail around Bear Lake Loop hike may be the most beautiful, handicap accessible trail in Colorado. In the winter, the hike up to Emerald makes for a perfect snowshoe hike.

At Nymph Lake on the way up to Emerald Lake
Emerald Lake Trail Directions & Trailhead Information
The trail to Emerald Lake begins at the Bear Lake Trailhead (driving directions). In the event that parking at Bear Lake is full, you'll then need to park at the Park & Ride near the Bierstadt Trailhead and take the bus into the trailhead. This service runs 7am to 7PM and more information on the RMNP shuttle bus routes can be found at this link. The trail to Emerald Lake is located on your way to Bear Lake, off to the left, just before reaching the shore viewing area of Bear Lake.
For conditions at Emerald Lake, see the Rocky Mountain National Park Trail Conditions page.
List and Links of Destinations From Bear Lake to Emerald Lake
Tips & Resources for Hiking to Emerald Lake :
Get to the Bear Lake trailhead early: We say this for almost every hike near Denver, but the Bear Lake Parking area is probably the busiest in the park. If you can't get there early, just take the shuttle from the lower parking area.
The Wildlife: We have seen a beautiful black bear in this area on one occasion. It just saw us and ambled away. As with any hike where there are a lot of wildlife, keep small children within sight at all times. On your way out, be sure to stop around Moraine Park and watch the Elk.
Snowshoeing to Emerald Lake In the winter, this is a Colorado wonderland and a very accessible trail to snowshoe. You can rent snowshoes for a great price at The Colorado Mountain Shop in Estes Park.
PhotoS: We would like to express our gratitude to Tim Lumley and Daniel for sharing their photos of Emerald Lake in RMNP.
Trail Map for Bear Lake Corridor: Trail Map Link
Colorado Road Conditions: Colorado Road Conditions
After the Hike: Kind Coffee
Weather
Map & Driving Directions
Click for Driving Directions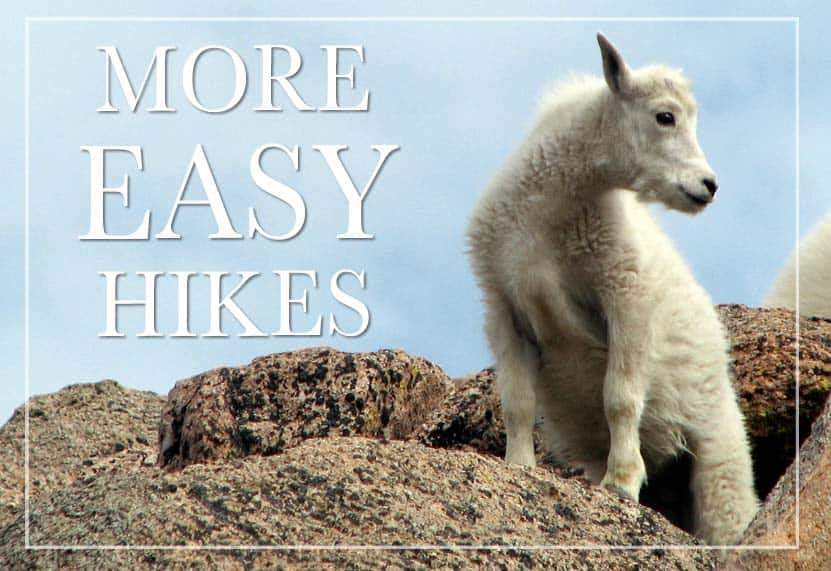 ---
Aaron Johnson has been hiking in Colorado for over 20 years. The owner and editor of Dayhikes Near Denver, Aaron writes every trail profile as a local guide who has hiked hundreds of miles of trails along the Front Range and deep in the Rocky Mountains of Colorado.