This park in Evergreen, Colorado is a family favorite of some of our good friends. They have two young daughters and love to hike Alderfer and Three Sisters. The park has so many trails that the network can get confusing, so download the Alderfer trail map or pick one up at the trailhead. Scroll down for more information on this hike in the foothills of Colorado.
Trail Snapshot: Alderfer and Three Sisters Park
| | |
| --- | --- |
| Hike Distance | 18 Trails: .2 to 10+ Miles |
| Difficulty | Easy (but consider altitude) |
| Duration | 15 min – 1.5 hrs |
| Trail Type | Loops, Out & Back |
| Starting Elevation | approx. 6500′ |
| Elevation Gain | 0 to approx. +950′, depending on the trail |
| Seasons | All |
| Dogs | Allowed On Leash |
| Hike Trail Map | Click for a Map of Alderfer and Three Sisters Park |
| Denver Drive Time | 40 min |
| Driving Directions to Alderfer and Three Sisters Park | Click for Google Map |
| Town Nearest Hike | Evergreen, Colorado |
| Beauty | rock formations, vistas, meadows, ponderosa pine, views of the Continental Divide, Stellar Jays and Coopers hawks |
| Activities | Hiking, climbing, family picnics, mountain biking |
Alderfer Three Sisters Park has an East and West Trailhead.
Alderfer and Three Sisters Park has everything from short, pleasant strolls for the family to more strenuous climbs and a long loop hike.
Some Hike Options at Alderfer and Three Sisters Park
A Short Family Hike:
The Wild Iris Loop (.6 mile loop) is a tame stroll through mountain meadows and can be easily accessed from the west parking lot.
Two hikes that are more strenuous
will take hikers to summit views: Evergreen Mountain East Trail, and the Sisters Trail. The Sisters trail may be the most difficult and most enjoyable in the park. The trail takes you up through three, unusual rock outcroppings and to views down into the quaint town of Evergreen.
A 10+ mile loop hike
can be created by hiking the trails that follow the outer rim of the park. Because the park has so many trails, it's advisable to download the Alderfer Three Sisters Park Map (see link in the above trail snapshot). There are so many options that you'll find it easy to create a hike custom to your visit.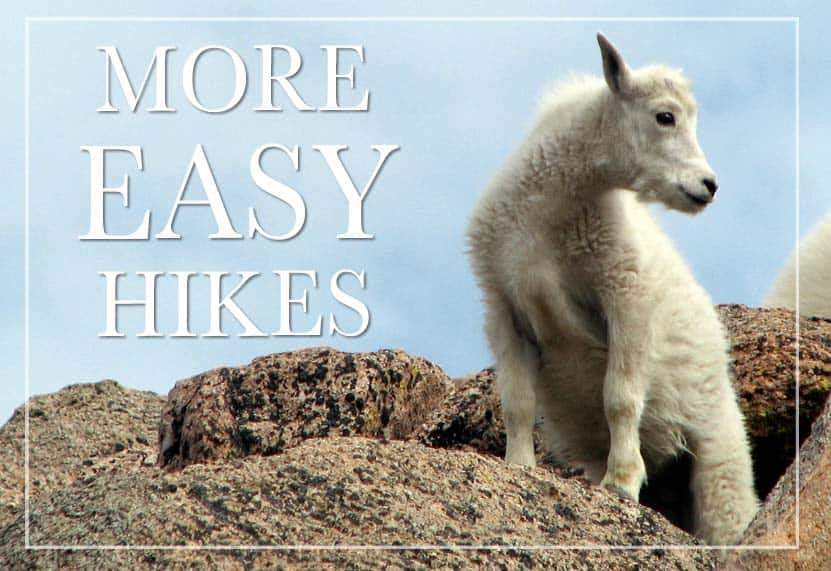 Tips & Resources for Hiking Alderfer and Three Sisters Park:
Weather
Map & Driving Directions to Alderfer Three Sisters Park
Click for Driving Directions
---
Aaron Johnson has been hiking in Colorado for over 20 years. The owner and editor of Dayhikes Near Denver, Aaron writes every trail profile as a local guide who has hiked hundreds of miles of trails along the Front Range and deep in the Rocky Mountains of Colorado.