Eldorado Canyon State Park is a hiking and climbing Mecca tucked into the Front Range near Boulder and Denver, Colorado. In this hiking profile of Eldorado Canyon, we quickly give you the 4 main trails and some tips for your time in the canyon. Explore the full trail profile below to get all the details.
Trail Snapshot: Hiking In Eldorado Canyon
| | |
| --- | --- |
| Hike Distance | 4 Trails: .5 mile to 3.5 miles (one way) |
| Difficulty | Easy to Moderate |
| Duration | 1-2.5 hrs |
| Trail Type | Out and Back |
| Seasons | Spring,  Summer, Fall |
| Dogs | Allowed on Leash |
| Hike Trail Map | Click Here for a Map of Eldorado Canyon State Park |
| Denver Drive Time | 45 min |
| Directions | Click for Google Map |
| Town Nearest Hike | Eldorado Springs, Colorado |
| Beauty | Canyon, Cascades, Cliff Swallows, Cliff-Top Views, Geologic Features |
| Activities | Picnic Areas, Horseback Riding, Mountain Biking, Rock Climbing, Fishing |
| Video | Click For Video |
| Fee | Link to Fees Page |
Eldorado Canyon is an oasis just about 45 minutes from Denver. Kids will love hiking over rocks along the streamside trail, peering into caves, and gazing up at the climbers on the towering canyon walls. The park features one of the best picnic areas in the state with shallow areas of boulder creek which quickly fill with kids. Close attention is needed in any situation involving water and children. South Boulder Creek can be swift, especially after rains and during the early melts. During these times, the canyon gushes and roars. The sounds are as great as the views.
Fishing at Eldorado Canyon State Park could potentially yield you fish that are eight inches to an average about eight inches to about twenty inches long. For a more detailed guide on fishing here, check out the one at Colorado Parks and Wildlife here.
There is no camping at Eldorado Canyon State Park, although there are nearby areas to do so.
4 Trail Options in Eldorado Canyon State Park
#1 – The Streamside Trail is the shortest (.5 mile one way) and follows close to the sides of the creek and canyon walls.&nbsp>
#2 – The Fowler Trail takes you .7 miles (one way) and provides great views of the canyon. &nbsp>
#3 – The Rattlesnake Gulch Trail is more difficult, traveling 1.4 miles up to the ruins of the Crags Hotel that burned to in 1912. Another trail goes from the hotel another .8 mile loop and features a view of Colorado's continental divide. &nbsp>
#4 – The Eldorado Canyon Trail is the longest, 3.5 miles (one way), eventually intersecting with the Walker Ranch Loop Trail.
Tips & Resources for Hiking Eldorado State Park:
Go On a Weekday: Eldorado Canyon is a climbing mecca and can reach capacity on the weekends.
Picnic: There is a great picnic area at the back of Eldorado Canyon, so pack a lunch or dinner for after the hike.
Driving Note: Take care in driving through the town of Eldorado Springs, there are many bikers, pedestrians, and pot holes!
After the Hike: Ozo Coffee in Boulder, Colorado
Trail Map for Eldorado Canyon State Park: Trail Map Link
Colorado Road Conditions: Colorado Road Conditions
Weather
Map & Driving Directions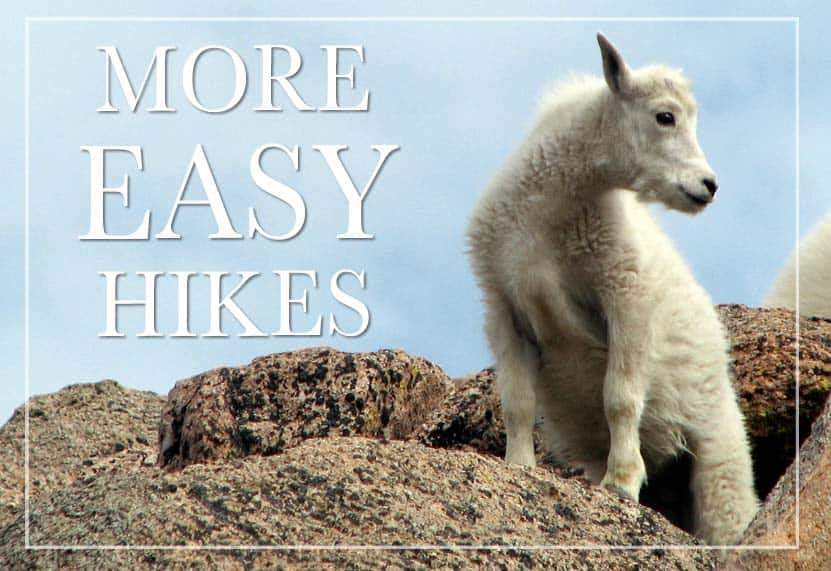 ---
Aaron Johnson has been hiking in Colorado for over 20 years. The owner and editor of Dayhikes Near Denver, Aaron writes every trail profile as a local guide who has hiked hundreds of miles of trails along the Front Range and deep in the Rocky Mountains of Colorado.