The Monarch Lake Loop is a perfect family hike that leads 4 miles through shaded forest, across creeks, and along the shore of the lake. It's one of the more diverse, but easy, hikes in the area. Monarch Lake is a popular destination for canoeing, kayaking, and access to the Indian Peaks Wilderness area. Explore the full Monarch Lake Loop hike profile below for trail map, driving directions, and many of the details you need to enjoy this adventure in Grand County, Colorado.
Trail Snapshot: Monarch Lake Loop, Colorado
| | |
| --- | --- |
| Hike Distance | 4 miles |
| Difficulty | Easy |
| Duration | Approx 2-3hr |
| Trail Type | Loop |
| Starting Elevation | 8400′ |
| Elevation Gain | Approx +300′ |
| Seasons | All Year, Road open from June 16 to Nov. 14 |
| Dogs | Allowed On Leash |
| Hike Trail Map | Click for a Map of Monarch Lake Loop |
| Denver Drive Time | 2 hr 50 min |
| Driving Directions to Monarch Lake, CO | Click for Google Map |
| Town Nearest Hike | Granby, Colorado |
| Beauty | Lake, shaded forest, wetlands, wildlife: moose, elk, deer, fox, waterfowl |
| Activities | Hiking, canoeing, horseback riding, photography, fishing |
| Fee Required | ANRA Day Use Fee |
Parking & Trailhead Information for Monarch Lake, Colorado
Following the driving directions in the above trail snapshot for Monarch Lake, the road will end at the Monarch Lake Trailhead. Here, you'll find parking spaces for about 40 vehicles. The parking area fills fast and cars and trucks often line both sides of the road to the trailhead. An Arapahoe National Recreation Area day use pass is required and can be purchased at the kiosk at the Arapahoe Bay Pay Station. This pay station is located shortly after you turn onto County Hwy 6 and before crossing over the dam. While Monarch lake is open in the winter, and Hwy 6 is plowed, the approximately 1 mile final segment of road that leads into the trailhead is closed from Nov. 15 to June 15. Because of this, hikers will have to park and snowshoe, cross-country ski, or hike in to the trailhead.
The Hike: Monarch Lake, CO
From the trailhead, a shaded tunnel of trees leads down a short gravel path to the Wilderness Information Cabin. Here you can pick up trail maps and information about hikes up into the Indian Peaks Wilderness area. The trail description here is of hiking the Monarch Lake Loop in a clockwise fashion. Begin on the Cascade Creek trail #N1. This will follow the shoreline of the lake and soon enter the forested area along the Northern end of the lake. After approximately 1 mile, the landscape changes and enters a wetland marsh. Keep your eyes peeled for moose and other wildlife here.

Wilderness Info Cabin at Monarch Lake
After 1.5 miles on the Cascade Creek Trail, the loop will be continued by taking a right onto the Arapaho Pass Spur Trail. This will head south, crossing Buchanan Creek, then Arapaho Creek. Here, after .8 mile, the spur trail ends and the Arapaho Pass trail begins. This last segment on the Arapaho Pass trail #N6 is 1.7 miles long.
Because of the pine beetle kill, there are many dead trees throughout the Monarch Lake Loop hike. Be alert for falling trees, especially when gusts of wind blow through. Hikers may also encounter deadfall across the trail. Be careful going under any fallen trees as they are often unstable and may only be supported by a few small, dead branches.
The hike continues on the south shore of the lake, passing an old, rusty steam engine. These "steam donkeys" were used to pull logs down out of the mountains back in the logging camps of the 1800's. After the steam engine, the trail will cross two more creeks, and finally make its way across the dam at the northwestern end of the Lake.
Because this hike is so perfect as a family outing, or for visiting family and friends, we recommend the following day trip:
1) Leave early (take breakfast with you) and arrive at the trailhead at or before 8AM (better chance of seeing wildlife and better parking)
2) Hike Monarch Lake
3) Drive over Trail Ridge Road (fee required–but worth every penny)
4) Eat a late Lunch in Estes Park (so bring snacks)
5) Head back home or drive in to Moraine Park in Rocky Mountain National Park.
Tips & Resources for Hiking the Monarch Lake Loop
Fishing: Monarch Lake is a popular fishing spot for trout. Colorado State fishing regulations apply.
Falling Trees: Because of the amount of dead trees in this area, hikers should be on alert for falling trees.
Trail Map for Monarch Lake Area: Trail Map Link
Packing List: Always pack the 10 Essentials. Download our Hiking Guide to get list and dayhiking packing checklist.
Colorado Road Conditions: Colorado Road Conditions
After the Hike: Mavericks Grill in Granby, CO
Weather
Map & Driving Directions
Click for Driving Directions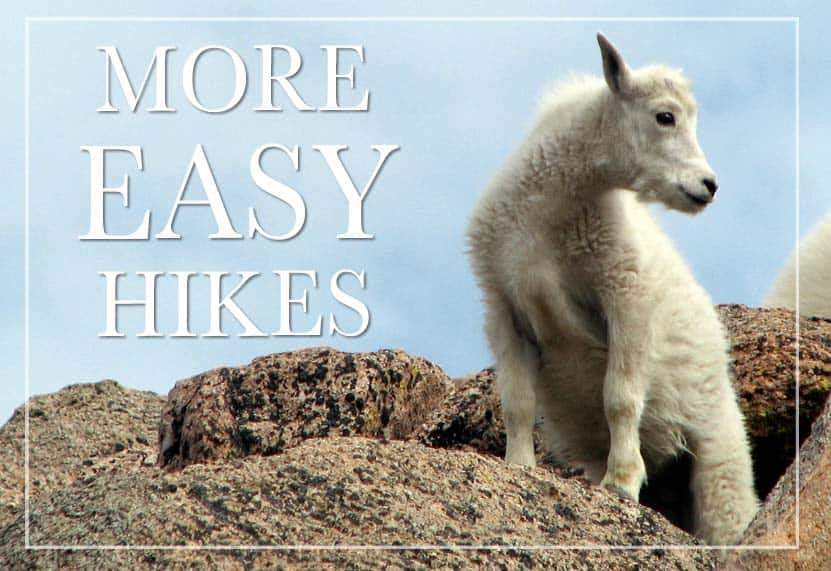 ---
Aaron Johnson has been hiking in Colorado for over 20 years. The owner and editor of Dayhikes Near Denver, Aaron writes every trail profile as a local guide who has hiked hundreds of miles of trails along the Front Range and deep in the Rocky Mountains of Colorado.