Helen Hunt Falls in Colorado Springs is a 35 foot waterfall requiring only a short walk from the parking area. For a longer and more demanding hike, visitors can take the 4 mile Columbine Trail from the bottom of Cheyenne Canyon to Helen Hunt Falls. This strenuous option affords and experience of the rich ecosystem of this canyon at the base of Pikes Peak. Explore the full Helen Hunt Falls hike profile below for trail map, driving directions, and many of the details you need to enjoy this waterfall in Colorado Springs.
Trail Snapshot: Helen Hunt Falls
| | |
| --- | --- |
| Hike Distance | 1/10 mile or 8 Miles Round Trip |
| Difficulty | Easy to Moderate |
| Duration | Approx 10 min or 4 hrs |
| Trail Type | Out and Back |
| Starting Elevation | 7200′ |
| Elevation Gain | Negligible or Approx 1000'+ |
| Seasons | Year Round |
| Dogs | Allowed On Leash |
| Hike Trail Map | Click for a Map of North Cheyenne Canyon Area |
| Denver Drive Time | 1 hr 45 min |
| Driving Directions to Helen Hunt Falls, Colorado Springs | Click for Google Map |
| Town Nearest Hike | Colorado Springs, Colorado |
| Beauty | Waterfalls, Cheyenne Canyon, North Cheyenne Creek |
| Activities | Hiking, Picnicking, Mountain Biking, Photography |
Parking & Trailhead Information for Helen Hunt Falls
Helen Hunt Falls is located in the upper reaches of North Cheyenne Canyon in Colorado Springs. The driving directions and map in the trail snapshot (above) direct hikers to the small parking area nearest to the waterfall. However, this lot is often full, so visitors will need to drive further up into the canyon to additional parking. The Helen Hunt Falls area is a trailhead to several hikes in the canyon, so the parking areas do fill quickly on weekends and during the busy vacation season. Go early to park close. In case you or a friend are unable to make the short hike to the falls, they are visible along the road from your vehicle. Drive with care through the canyon as there are many cyclists on this stretch of road.
The longer hike begins near the Strasmore Visitor Center at the entrance to Cheyenne Canyon. Click for Driving Directions.
The Hike: Helen Hunt Falls
Helen Hunt Falls is a 35 foot waterfall that cascades over the rock in North Cheyenne Creek. The falls are most beautiful when Cheyenne Canyon's water volume is at it's peak in the late Spring to early Summer, or after a good rain. It's not much of a hike to Helen Hunt Falls because the base of the falls can be accessed just a few steps from the Helen Hunt Falls Visitor Center. The visitor center is open only in the Summer and has snacks and gifts for sale. The waterfall access is open year-round and there is no fee.
In the winter, the frozen falls have a beauty of their own, but be advised that the trails can be very slick and icy.
There is short, but more strenuous trail just after the bridge and to the left. The trail has a set of stairs built into the side of the canyon that lead to an overlook and another perspective on the waterfall.
If you prefer a longer, creekside hike to the Falls, then park at the Strasmore Visitor Center at the entrance to the Canyon. Near the visitor center, you can locate the Lower Columbine Trailhead. This creekside trail weaves through Cheyenne Canyon all the way up to Helen Hunt Falls. It's 4 miles one-way to the Upper Columbine Trailhead near the falls, and about 1000+ feet of elevation gain. Because the trail follows the creek and over a lot of rocky surface, be prepared for slick surfaces, and be sure to wear a solid pair of hiking boots. Trekking poles will be exceptionally helpful on this stretch of trail. About midway up the Columbine Trail, it abandons the creek, crosses the road, and begins a significant climb that includes a set of demanding switchbacks. Eventually, the trail nears Tunnel #2 along Gold Camp Road, then terminates at the Helen Hunt Falls area.
Helen Hunt Falls is named for reformer, activist, and writer, Helen Hunt Jackson, who fought for Native American Rights in the era of Reconstruction after the Civil War.
Tips & Resources for Hiking Helen Hunt Falls
Explore More: Hike further to Silver Cascade Falls to take in a second waterfall. It's less than 1/2 mile from Helen Hunt Falls with an elevation gain of approximately 250 feet.
Pack a Picnic Lunch: Helen Hunt Falls and Cheyenne Creek are great places to enjoy a picnic lunch.
Bear and Mtn Lion Activity: Like many areas along the Front Range of Colorado, Bear and Mtn. Lions live in Cheyenne Canyon and the surrounding countryside. Dispose of food in the proper containers. Be alert. And keep together as a group. It's best that children don't run ahead, but stay with your group. Dogs should be leashed at all times.
Trail Map for North Cheyenne Canyon: Trail Map Link
Packing List: Always pack the 10 Essentials. Download our Hiking Guide to get list and dayhiking packing checklist.
Colorado Road Conditions: Colorado Road Conditions
After the Hike: Urban Steam Coffee
Photo: We would like to express our gratitude to Mike Sinko for sharing such an amazing photograph of this hike.
Weather
Map & Driving Directions
Click for Driving Directions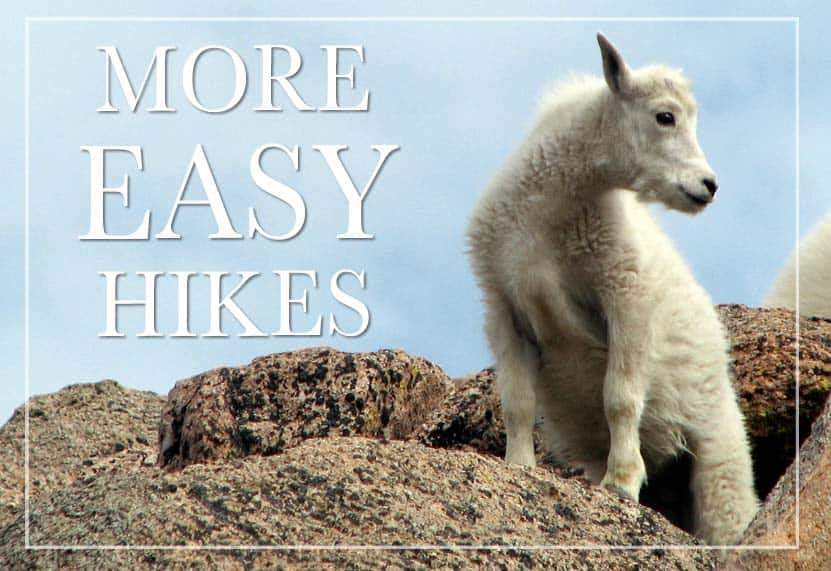 ---
Aaron Johnson has been hiking in Colorado for over 20 years. The owner and editor of Dayhikes Near Denver, Aaron writes every trail profile as a local guide who has hiked hundreds of miles of trails along the Front Range and deep in the Rocky Mountains of Colorado.