The Red Rocks Trail at Red Rocks park gives you a chance to wander through the meadows just east of the imposing red monoliths that this Denver Mountain Park is named after. Close to Denver, the Red Rocks Trail is great for a sunrise hike, an inspiring trail run or a challenging bike ride. There's more: a cave carved into the sandstone a great geological overlook. Read our full trail profile below to get all the information you need on this Colorado hike: trail description, driving directions, Red Rocks Hiking Map, a video panorama of the park and more.
Trail Snapshot of Red Rocks Trail at Red Rocks Park
| | |
| --- | --- |
| Hike Distance | 6 miles Round Trip |
| Difficulty | Moderate |
| Duration | Approx 3 hr Round Trip |
| Trail Type | Loop |
| Elevation Gain | +1300'/-1500′ |
| Seasons | All Year |
| Dogs | Allowed On Leash |
| Hike Trail Map | Click for a Map of Red Rocks Trail at Red Rocks Park |
| Denver Drive Time | 25 min |
| Driving Directions to Red Rocks Trail at Red Rocks Park | Click for Google Map |
| Town Nearest Hike | Morrison, Colorado |
| Beauty | Rock formations |
| Activities | Hiking, mountain biking |
| Video | Click For a Video of Red Rocks |
This 6 mile loop trail actually spans across two parks. First is the Red Rocks Park which is a Denver Mountain Park, and the second is Matthews/Winters Park which is part of Jefferson County Open Space. Because of this, you should check out two different maps to connect all the trails together into one.
Start your trail at Lower North Lot (our directions above will take you right there). As you can see on the picture above, the actual trailhead is a little difficult to see from the parking lot. To find the Red Rocks Trail trailhead, go to the northeast corner of the lot, cross the street (east), and you will see the beginning of the trail just on the other side of the road.
After a few minutes of hiking, you'll come to a trail junction Dakota Ridge Hogback (see photo below). We recommend you take a right and ascend the Dakota Hogback. Here are a couple reasons for this approach: First, you get one of the more difficult sections of the trail out of the way at the beginning of the hike. Second, you can get a visual of your return trail from the top of the hogback. This will help when you are descending into Matthew's Winter's park and are trying to match the map up to the connecting route. The yellow arrows on the photo below will be your return route (just imagine the arrows going the opposition direction).
Ahead of you is about a mile of rock-strewn path followed by another mile on a wider path. Good hiking boots or shoes are a necessity, especially on this part of the hike. Eventually, you'll bear left and let the trail take you off the mountain and to County Road 93. Here you will cross the street and enter Matthews/Winters park. You'll find restrooms here and a bit of shade under the cottonwood trees that line the creek.
Before you cross the Mt. Vernon Creek, you can pick up park brochure and map. Take the Village Walk trail which is a hiker & equestrian-only if you are on foot. If you are biking this, you'll want to take the Village Ride trail (0.6 mi) which is a bikes only trail. After .3 mile on the Village Walk Trail you will pick up the Red Rocks Trail again. This section isn't very demanding. You'll travel for 2.8 mi back to the trailhead where the hike began. If you want more of a workout on your return, turn right after 0.8 miles and take the Morrison Slide Trail, which will add an additional 0.4 mile and some elevation to your hike or run.
Overall this loop hike gives you great expansive views of Red Rocks, but if you want something closer in to the rock and shorter, then you should check out the Trading Post Trail in Red Rocks Park.
Jaunt #1 – Shallow Cave at Red rocks
From the lower north parking lot, take the stairs up to the road, then walk left up the road about 50 yards to check out a shallow cave carved into the ancient sandstone. There is also a tunnel carved out of the rock that the road passes through. It's a great place for photos, but be sure to keep aware of the cars.
Jaunt #2 – Geologic Overlook at Red Rocks
As you can see on the photo below, on the north side of the parking area, just east of the stairs, you'll find another trail marker that reads "Geologic Overlook". It's just a short hike, maybe a few hundred yards but it will take you to a great overlook in Red Rocks Park.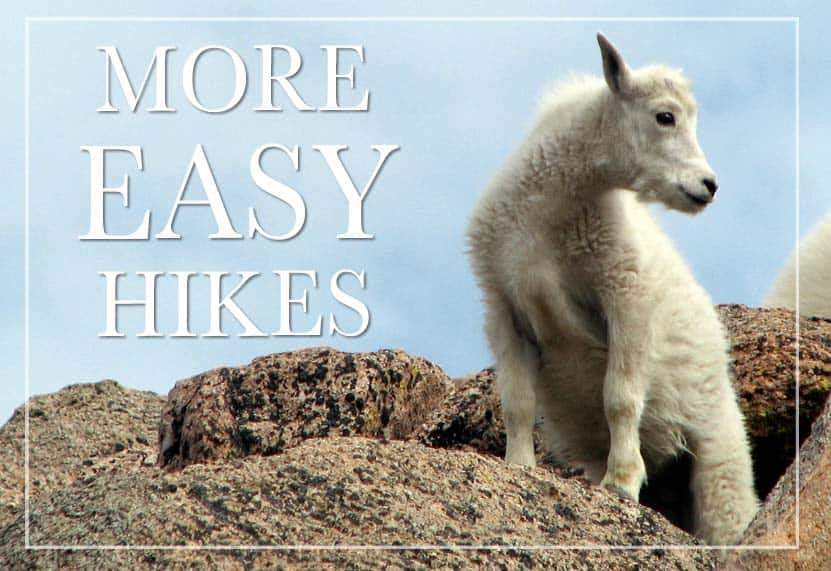 Tips & Resources for Hiking Red Rocks Trail at Red Rocks Park :
TIP: There is no shade at all, so we recommend that you bring sunscreen and hats. This trail should be hiked in the morning before the sun is bearing down on you.
TIP: Be aware of mountain bikers, especially if you have small kiddos who love to wander around on the trail. We passed several cyclists along the trail, and like most Colorado mountain bikers, they were kind and considerate.
Trail Map for Red Rocks Park: Trail Map Link
Additional Map: Matthews/Winters Park Trail Map Link
Colorado Road Conditions: Colorado Road Conditions
After the Hike: Morrison Joe
Weather
Map & Driving Directions
Click for Driving Directions
---
Aaron Johnson has been hiking in Colorado for over 20 years. The owner and editor of Dayhikes Near Denver, Aaron writes every trail profile as a local guide who has hiked hundreds of miles of trails along the Front Range and deep in the Rocky Mountains of Colorado.