The winding dirt road trail of Waterton Canyon takes you along the South Platte River and into a canyon where you might spy some Bighorn sheep or catch the sight of massive eagles soaring on the warm air currents rising from the rock. It's an out-and-back hike, and you have a lot of options, from a short hike in to have a picnic, all to way to 12.4-mile round-trip adventure to the Strontia Springs Dam. You can hike, bike, and fish on this hike near Denver. Explore the five different options we have detailed below. We'll describe the location of a few destinations, including the best places to rest and have a picnic, and some of the other trails that join up with this Colorado canyon hike.
Waterton Canyon will be closed from June 1st 2021 through June 11th 2021. It will be open on Saturday, June 5, and Sunday, June 6th. See the Denver Water Waterton Canyon page for updates and details.
Trail Snapshot: Hiking Beautiful Waterton Canyon
| | |
| --- | --- |
| Hike Distance | A variety of trail lengths depending on your goals. It is a 6.2-mile trail to the Strontia Springs Dam, or 12.4 round trip. |
| Difficulty | Easy to Moderate |
| Duration | Approx 2 to 6 hours |
| Trail Type | Out and Back |
| Elevation Gain | Approx +700′ |
| Seasons | All Year |
| Dogs | Not Allowed |
| Hike Trail Map | Click for a Trail Map of Waterton Canyon |
| Denver Drive Time | 35 min |
| Directions | Click for Google Map |
| Town Nearest Hike | Littleton, Colorado |
| Beauty | Bighorn sheep, Views of a lake and a river |
| Activities | Hiking, mountain biking, fishing, horseback riding, picnicking, and nature viewing |
When you set out to explore Waterton Canyon, there are plenty of things that you can expect. We've hiked this three times and have spotted Bighorns on two of those hikes. The trail is a wide dirt road that gives Denver Water access to the dam at the top end of the canyon. So, this makes for a great stroller hike, if your stroller has a way to give the kids some shade from the sun. It's also a really enjoyable mountain bike ride because it's not too steep–well, at least not until just past the dam–and the downhill ride back down is easy and fun. Here are over five different ways you can hike this great hike near Denver, Colorado.
Hike Options at Waterton Canyon Trail
1. The Shorter Hike in Waterton Canyon
The first mile or two of Waterton Canyon takes you to an old water conduit pipe that juts out over the trail, and your best chance to catch the site of Bighorn Sheep and Golden Eagles. The trail quickly goes from a paved road to a dirt fire road, then begins following the course of the South Platte river. The canyon itself starts low and shallow, and grows higher and more rugged the deeper you venture into Waterton.

After about 15 minutes of hiking, keep your eyes peeled on the green hillsides on your right (see photo above). This is where we most often spot bighorn sheep and their lambs. Scan the skies, too, for gigantic golden eagles that hover on the hot air that rises from the canyon walls in the afternoons. You'll find the first picnic area just about 1/2 of a mile into Waterton Canyon.
2. Waterton Canyon Picnic Area – 3 Miles Round Trip
This section of Waterton makes for a great evening picnic. You'll find it on your left just after the Highline Canal Diversion Dam. It's a great place to skip rocks with the kids and to watch the light soften on the canyon walls as the sun sets over the distant mountains. Continuing past this picnic area, the next feature you'll pass is the Marston Dam. There is another picnic area at approximately 3.75 miles into Waterton Canyon (see the pdf map), that's also a great little spot, but if you get in that far, you'll want to keep exploring.


If you hike further up into Waterton Canyon, the river grows both wider and wilder. Cedars and pines grow along the banks and canyon sides, and the cliffsides become steep and jagged. It's here, around mile 4, that things start to get interesting.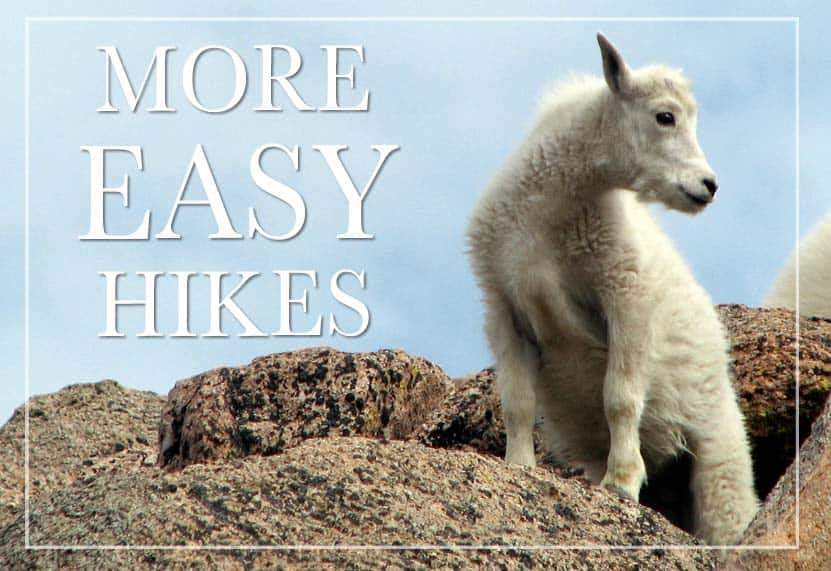 3. Fishing Hole and Picnic Table at Mile 4.5
The next destination worth mentioning is a secluded spot on the river where you'll find a deep fishing hole on the right side of the road. There is a picnic table hidden down among the willows (it's hidden well enough that it doesn't show up in the photo below). There is a restroom just about 150 yards upriver from the spot.


The trail just keeps getting better after you pass this fishing hole. At mile five, we saw a lot of bighorn sheep sign, flowering bushes, and wildflowers. Hummingbirds were buzzing along the trail in a furious search for nectar. Folks who fish Waterton Canyon often ride their bikes in and start fishing at the dam, then work their way back downstream.

4. Hike the Entire Trail to the Strontia Springs Dam – 6.2 Miles
The Strontia Springs Dam is an imposing structure, looming over 200 feet high above the trail with water gushing from its release pipes into the river. Accessing the 7700 acre Strontia Springs Reservoir is extremely difficult, though not impossible. However, its banks drop straight off into the water making it a pretty inhospitable place, but it can be fished for perch, trout, and walleye. One fisherman on a Colorado fishing forum commented that you have to really "WANT to get there" because it's so tough to access.

5. Hike the Colorado Trail
Most people turn around at Strontia Springs, but the trail doesn't end there. In fact, Waterton Canyon is the eastern gateway to the close to 500 mile Colorado Trail. The Colorado Trail starts here in Denver, then weaves its way all the way to Durango. You can download a Trail Map of the Colorado Trail here. You really have several options at this point. You can continue onto segment one of the Colorado Trail on Trail #1776.

Segment one of the Colorado Trail will take you out of the canyon and onto US Forest Service land where you can camp near Lenny's Rest. It's important to note that camping is prohibited in Waterton Canyon, so this area at Lenny's rest should be your goal if you plan to overnight. Another option is that you can hike down into Roxborough State Park on the Roxborough Connector section of the Indian Creek Trail #800. Yet another option–and this option is way more than a dayhike being well over 28 miles–would be to hike the full Indian Creek Trail Loop, then to exit at either Roxborough or back down through Waterton Canyon. However, Indian Creek does have its own campground, so you could make it a long weekend trip. Of course, your final option is to hike out the way you came through Waterton Canyon. Click here for a PDF map of the first segment of the Colorado Trail that shows the connections to both Roxborough and the Indian Creek Campsite.
Tips & Resources for Hiking Waterton Canyon :
No Dogs: Because of the bighorn sheep and other wildlife, dogs are not allowed in Waterton Canyon.
Fishing: If your goal is to go fishing in Waterton Canyon, then start early and ride your mountain bike the 6.2 miles up to the dam and fish your way down.
It Gets Hot: Don't hike this in the middle of the day. Waterton Canyon is close to 100% exposed to the sun, so it's best to start very early or to hike later when the sun is moving itself to end the day.
Did I Mention It Gets Hot? Bring sunscreen and a hat
Bring Water: Bring plenty of water. You can say this about every hike, but it's especially important because of the sun and heat.
Dusk: It gets dark quickly after sunset. Because you're in a canyon, once the sun sets beyond the foothills, the canyon becomes a land of shadows.
Watch for Bikes: Watch for mountain bikes, especially those headed down and out of the canyon. The road is wide enough to accommodate a lot of traffic in Waterton Canyon, but you want to be sure that you are staying to the right as you hike so that you can give a wide berth to the bikes that are letting it rip as they leave the canyon.
Trail Map for Waterton Canyon: Trail Map Link
Colorado Road Conditions: Colorado Road Conditions
After the Hike: Spur Coffee in Littleton
Weather
Map & Driving Directions
Click for Driving Directions
---
Aaron Johnson has been hiking in Colorado for over 20 years. The owner and editor of Dayhikes Near Denver, Aaron writes every trail profile as a local guide who has hiked hundreds of miles of trails along the Front Range and deep in the Rocky Mountains of Colorado.