Hanging Lake is a short hike to two waterfalls and one of the most beautiful lakes in Colorado. On the same hike, you can explore Spouting Rock Falls, and even walk behind the waterfall. Reservations are required to hike Hanging Lake so don't leave home without booking (see info in trail snapshot below). It's not a day hike near Denver, but it's definitely worth the nearly three-hour drive to the Hanging Lake Trailhead just outside of Glenwood Springs.
We've attempted to create the definitive guide to hiking the Hanging Lake Trail. In this guide, you'll find: how to make reservations for hiking hanging lake, 10 hiking tips, notes on driving directions to Hanging Lake. You can download the Hanging Lake trail map, find tips on photography at the lake, and some notes on hiking this trail with kids. If you are planning a Colorado vacation, there is helpful information for planning both your hike and trip to this Colorado destination. This guide is extensive, so we have created a table of contents help you navigate your way around.
Hanging Lake Guide Contents

Trail Snapshot: Hanging Lake Trail
| | |
| --- | --- |
| Permit Required | Visit Link to Book Permit and Shuttle Ride |
| Hike Distance | 2.4 miles Round Trip |
| Difficulty | Moderate to Difficult |
| Duration | Approx 2 hr Round Trip |
| Trail Type | Out and Back |
| Elevation Gain | +1096′, -160′ |
| Seasons | All Year |
| Dogs | Dogs are Prohibited on Hanginng Lake Trail |
| Hanging Lake Trail Map | Click for a Map of Hanging Lake |
| Denver Drive Time | 2 hr 45 min |
| Hanging Lake Driving Directions – Off Peak Season Parking | Click for Google Map |
| Town Nearest Hike | Glenwood Springs, Colorado |
| Beauty | Waterfalls, Lake, Cascades, and Canyon |
| Activities | Falls Viewing Area, Hiking |
| Video | Click For a Video of Hanging Lake |
Hanging Lake Reservations and Permits
Year-round, permits are required to hike Hanging Lake. You can purchase your permit and schedule your reservation slot online at the Hanging Lake Shuttle site.
You might be wondering why permits are necessary? The trail receives over 100,000 visitors each year, which is common for some areas in the National Parks system, but there are two other factors at play: first, hanging lake is a sensitive area and because of the sheer volume of visitors, the ecosystem was becoming threatened by the impact; second, the trailhead parking area is in a canyon alongside interstate 70, so it would be incredibly difficult and expensive to expand the parking and trailhead facilities. Not to mention that by expanding, we would end up expanding the problem of impact. In short, Hanging Lake was getting loved to death. Now the city of Glenwood Springs and the Forest Service have teamed up to preserve this natural wonder, so that future generations will get to enjoy it, too.
Hanging Lake Driving Directions
Hanging Lake Driving Directions – May 1 – Oct. 31 – Peak Season
During peak seasons, Park at the Hanging Lake Welcome Center in Glenwood Springs to access the shuttle. From Denver, take interstate 70 West to Take exit 116 for CO-82 East toward Glenwood Springs/Aspen. You'll stay on 82 as it wraps back around to the South and becoming Grand Avenue. After going over the bridge, take 8th street west/right. After about 0.4 mile, take a right onto Midland Ave. Go about 0.5 mile and turn right onto Wulfsohn. The Hanging Lake Welcome Center is just up the road on Wulfsohn next to the Glenwood Springs Community Center. Check up-to-date maps via the links above, as construction may change driving directions.
The Return Shuttle: The hanging lake return shuttle is on a 3-hour schedule, meaning that it will be ready to take hiker back after three hours from their drop-off. Hikers who stay longer will be on standby, so plan accordingly.
Hanging Lake Driving Directions – Nov. 1 – April 30 – Off-Peak Season
These directions to the Hanging Lake Trailhead are only for those visiting during the off-peak season (Nov.1 to April 30th). The trailhead is closed to vehicles during the peak season. Driving to Hanging Lake from Denver (the east) can be a bit confusing. Here's why: you have to drive past the trailhead because there is not westbound exit, then take exit 121, go under interstate 70 and get back on eastbound I-70. Then you'll take exit 125 to the Hanging lake Trailhead. I've posted a map below that shows all this in detail.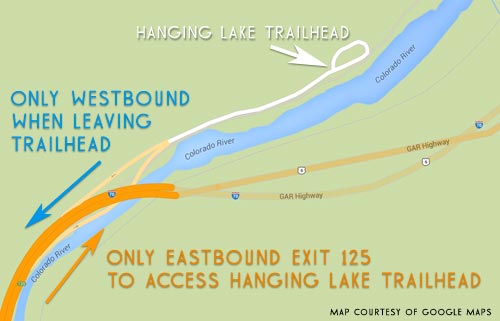 When leaving the Hanging Lake Trailhead, you can only exit onto the Westbound lane of interstate 70. So, you'll have to do the same thing and take exit 121 again to double-back and head back to Denver. If you are coming from Glenwood Springs or the west, then things are pretty straightforward. Driving from Denver, this maps out as a 2.5 hour drive using Google maps, but be sure to add time for construction.
Parking and Facilities at Hanging Lake Trailhead – Nov. 1 – April 30
We arrived at the Hanging Lake Trailhead parking lot at 8AM on a Saturday morning in July. The first parking lot was full, and by 8:30, the second lot was nearly full. Beginning in 2015, a gate has been installed to close the lot when it is full.The restroom facilities were large enough to serve the number of people who frequent this popular Colorado hike, and were well kept. This is important: if you get there when the lot is full, you will either need to try again later, or make other plans. An alternative is to rent bikes in Glenwood Springs, to bike in, and lock up your bikes at the trailhead (be sure to get locks at the rental shop).
There were a few shaded picnic areas near the parking area, and some unshaded ones along the river. On our way out, the parking lot was at full capacity with cars having to turn around and leave because there was no place to park. Parking is prohibited along the the I-70 exit ramp, so if the parking lot is full, your best bet is to drive into Glenwood Springs, grab something to eat, and try back later. Don't wait idling or clog the ramp, it prevents emergency vehicles from accessing folks who really need their help. It's also important to note that recreational vehicles and trailers are prohibited from parking at the hanging lake parking lots as there is not sufficient space to turn around.
Hiking the Hanging Lake Trail
The Trailhead begins along the Colorado River with a paved bike path surrounded by the banded rock walls of Glenwood Canyon. The morning air was cool, and steam was lifting from the warm surface of the Colorado River. After about a quarter-mile you'll see a bike rack and the Hanging Lake Trail on your left. This is the beginning of Dead Horse Creek Canyon, the canyon that you'll follow for about 1 mile up to Hanging Lake, then to Spouting Rock Falls.
Depending on your pace, it may take you anywhere from 40 minutes to an hour and a half to get to the top.Though the prize at the end of this hike are two breathtaking Colorado waterfalls, one of our favorite features of the Hanging Lake trail is that it follows and crosses a mountain stream all the way up to the lake. In fact you'll cross seven bridges on your journey up to Hanging Lake. You'll be refreshed by the sights and sounds of cascades and the cool air of the canyon.
Most of the hike is in the shade of towering spruce, cedar, and fir trees. You'll find several benches and rocks where you can stop and rest. If you are acclimated to the altitude, the hike up the Hanging Lake is relatively easy and short, but it is steep and there are a lot of rocks to negotiate, so we have categorized the Hanging Lake trail as a moderate hike.
If you are not acclimated to the altitude, or not a regular hiker, this Colorado hike will be a real workout, so you may classify it as difficult. If this is you, then be sure to read our Tips for For Out-of-State Hikers. The piece you may find most challenging is just how slippery some of the rock can get. I hiked this in Chaco sandals, which had great grip, but I got a few blisters on the descent. I'd recommend wearing a shoe or a boot that you know won't be prone to slipping.The piece you may find most challenging is just how slippery some of the rock can get. I'd recommend wearing a shoe or a boot that you know won't be prone to slipping.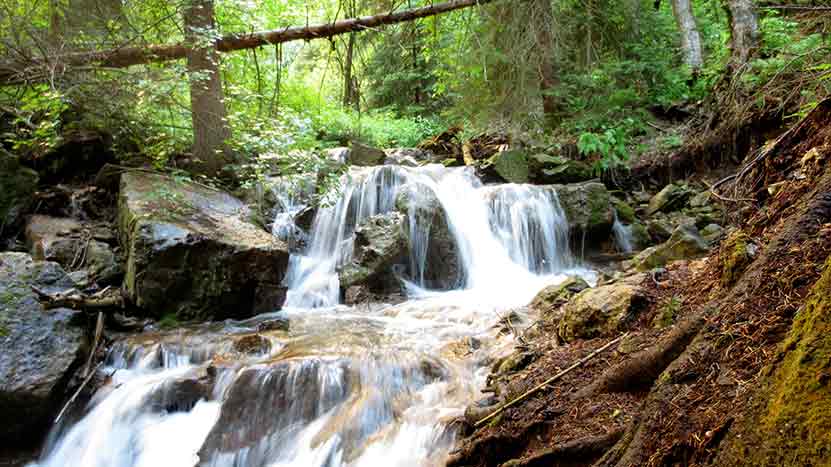 At bridge three you'll come across a beautiful cascade. The canyon soon opens to display clifftops that look like the ancient ruins of some abandoned castle. In areas where the sunlight breaks through, you may find raspberries along the trail in the latter half of the Summer. You'll find more cascades near bridge number five. Dead Horse Canyon is a particularly lush ecosystem packed with spruce trees, moss, lichen, ferns, and sweet woodruff. As our six-year old daughter hiked into this part of the trail, she looked up to me and said, "It's a rainforest, Dad!"
Close to the one-mile point, you'll climb a steep staircase of rock complete with handrails. While the handrails are helpful, it would be easy for a child to slip over one.So, we'd recommend that you keep smaller children on the inside of the steps as you ascend and hold their hand. It's a sheer drop on the other side of the handrail.At the top of the stairs follow the path about 100 yards to Hanging Lake. On the way, just before Hanging Lake, you'll notice a sign to Spouting Rock. We'll detail this trail in a moment, but you absolutely must hike this short 200 yard trail to this waterfall hidden behind Hanging Lake.
At Hanging Lake
Hanging Lake is a masterpiece of the natural world. You could spend the entire morning staring into its waters and discovering new things. We spotted trout in its green and blue waters, and dippers, little birds that create nests right on the rocks along the water. There are a variety of moss, ferns, and wildflowers all along the lake. Because of all the traffic at the lake, we saw a bit of trash floating at the base of the waterfall. Dayhikes Near Denver would like to challenge you to look for a piece of trash at the lake and to pack it out with you. Of course, don't go in for it, but pick up what is along the trail and edge of the lake. If we all do this, we can do a little part to help keep this natural wonder beautiful. With over 130,000 people visiting a year, the impact adds up fast.
The back side of Hanging Lake was my favorite spot. The light play and the water spray made for great photos (see our photographing hanging lake tips below), and it gives you a real stunning perspective of the waterfalls pouring into the lake.
You may notice what looks like a huge chain-link cage along the canyon wall above Hanging Lake. It's there to hold back the rocks that are prone to pile up and roll downhill toward the lake.
Stay off the Log
There is a log that stretches out into the lake, and its tempting to walk out onto it. However, it's important to know that the oils and detergents on our bodies and clothing–even our shoes just touching the water–can damage the sensitive ecosystem of Hanging Lake. So, as cool as it might be to get that pic of you out on the log, it's even cooler to help preserve this place for the next generation who gets to see it.
So, as cool as it might be to get that pic of you out on the log, it's even cooler to help preserve this place for the next generation who gets to see it.
Spouting Rock Waterfalls
On your return, be sure to hike the short spur (about 200 yards) up to Spouting Rock Falls. That's right, it's plural–there are multiple falls. This set of waterfalls is much higher than the Bridal Veil falls at Hanging Lake, and instead of pouring over the cliffside, the falls shoot out from holes that the water has carved through a sheer wall of limestone. When the water is really flowing (which is most of the time), an additional gusher of a falls spills out from the heights above Spouting Rock, creating a breathtaking series of waterfalls.
Photography: How to Get Great Photos of Hanging Lake
The key to getting the best photos of Hanging Lake is to go very early or later in the afternoon when the sun is close to setting. We hit the trail around 8:30 AM, and by the time we got to the lake, there was direct sun on the waterfalls pouring into Hanging Lake.
The real problem is that part of the waterfalls and lake are in direct sun and part in in the shadow of the canyon walls. This makes for two very different exposures within the same frame. So, that's why we recommend that you go earlier or much later when the sunlight is still indirect and diffused. For some incredible shots, be sure to walk over to the back side of hanging lake where you can take photos that reveal the area carved out under the falls–but be sure to keep out of the water.
You will find the light at Spouting Rock Falls much more forgiving. Spouting rock is shaded more by both the canyon walls and trees that surround it. However, I would expect that light might be a bit harsh around midday.
Hiking with Kids at Hanging Lake
The trail is steep and the rock steps are high, so if you are bringing your kids, be prepared to hike at a slower pace and for a lot of people to be passing you. Be aware that there is a lot of slippery rock along the trail, so both good hiking shoes with grip and close supervision of kiddos are important. We brought our 4-year old and 6-year old with us and they did fine. Take into account that we have been hiking with our kids since they were a few weeks old, so this is more normal for us. We read an online comment where another family recommended this hike only for kids 10 and up. If your kids are young, I wouldn't recommend this as a first hike.
The experience of hiking the Hanging Lake trail with our four-year old was a bit like hiking with a marionette. A lot of the rock steps on the trail were above her knees, so we were helping her up most of the way. This eventually turned into a game of leapfrog, as there were a lot of folks visiting from out-of-state who quickly became winded and needed to take stops, too.
The trail got busy quickly, so we found ourselves stopping often and stepping aside to let others pass us. Our children were particularly taken with the snails we found along the trail when we took breaks. The snails are easy to miss, but if you just stop and look around for a moment, they seem to appear from out of nowhere.
Visiting Hanging Lake From Out-of-State
Be ready to feel winded by the altitude change. You can help yourself adjust to altitude and to have a successful hike up to Hanging Lake by getting a good nights rest, drinking lots of water, and by going at a slower pace than you may be used to. This is good basic advice for anyone vacationing in Colorado.
As I mentioned earlier, the rock on the trail can be wet and slippery, so make sure that you have footwear that can grip the rock.
If you are overweight or have knee or ankle problems, then trekking poles are an absolute necessity. Coming down the trail is tough on the joints, and you'll be weary at that point, so it's easy to turn an ankle (I did, but that was probably because I was wearing Chaco sandals).
Don't give up. We saw several people about 400 yards shy of the lake talking about turning around and heading back. They were so close. Of course, if you think that your health would be compromised by continuing, or if a bad lightning storm is rolling in, then it's always wise to turn around.
If you are from out-of-state, or just not in the best of shape, plan for your hike to take longer. And definitely get to the parking lot early, 7AM, to avoid the heat and crowds. If you would consider yourself very out-of-shape, I'd recommend building up to this hike. See our Easy Hikes Near Denver or Short Hikes Near Denver pages for a good place to start.
---
---
Ten Hiking Tips for Hiking Hanging Lake
Because there are a lot of first-time hikers on this trail (and you might be one), we wanted to share a few tips.
If you find that you are going at a slow pace, step off to the edge of the trail to let other groups pass.
If you are going at a faster pace, simply say, "Pardon us as we pass on your left." Just like driving, always pass on the left.
Take your time and don't pass folks on the handrail section. It gets crowded here, but it's just a short jaunt, so take your time so that everyone can make a safe passage of it.
Don't feed Bucky: We encountered one woman who had tried to feed an almond to a squirrel, but the squirrel mistook her finger for the nut. As a rule, you don't want to be feeding wildlife because it makes them dependent upon an unnatural food source (especially fingers), but it's also not a good idea because you could get bit.
Make sure to bring a snack and some water. Be sure to pack out your plastic water bottles and other trash.
Hike the Hanging Lake Trail early in the morning, not just because of parking and traffic, but to cut down on the heat and humidity of the day. Depending on when you hike this trail, it can feel like two completely different experiences. If you hike in the early morning, the canyon is cool and refreshing. Hike it after 11am in the summer and it can feel more like a sauna.
This is one of the most popular if not the most popular hike in Colorado, so avoid holiday weekends. Or go very early, by 7am, if you want a parking spot.
Don't forget to bring a camera.
There will likely be snow on the trail in the Spring, Fall, and of course Winter, so we advise bringing a traction device like YakTrax and trekking poles.
Don't cut through the switchbacks, these are here to cut down on erosion, which can be significant with around 130,000 visitors hiking the trail each year.
Can I Fish at Hanging Lake?
There are trout at Hanging Lake, but fishing is NOT allowed because of the lake's unique and fragile ecosystem. However, if you would like to add fishing to your day, I'd recommend fishing the Colorado River along the Hanging Lake trailhead. I've not fished this section of the Colorado River, but I saw trout rising while we were walking past, and there looks to be some pretty good access to the river banks.
Are Dos Allowed at Hanging Lake
You'll have to leave Fido at home for this one because dogs prohibited on the Hanging Lake Trail and at Hanging Lake. In fact, the forest service sites that dogs, and the trash left by visitors, are biggest threat to the sensitive environment of Hanging Lake. A lot of people ask if you can swim in Hanging Lake, and for the same reasons swimming is prohibited. In fact, the US Forest service details that there is to be "no bodily contact" with the water.
Camping Near Hanging Lake
We decided to camp with our family on Friday night, then to get up early on Saturday to do the Hanging Lake hike. I was surprised by how difficult it was to find a campground near Glenwood Springs.
However, we eventually found and reserved amazing campground. In fact, it's so good that I'm hesitant to share it. We booked a campsite at Bogen Flats Campground along the Crystal River. It was a 1 hour drive from the campground to the hanging lake trailhead. Though, not as beautiful, you could camp at Redstone Campground, which is a bit closer. We would also recommend (if you have a good clearance 2WD vehicle), the Avalanche Creek site–no reservations required. There is a KOA near Glenwood Springs that gets great reviews, too.
Lodging near Hanging Lake
If you don't want to rough it, there are plenty of lodging options in Glenwood Springs and great places to stay.
Other things to Do in Nearby Glenwood Springs
If you are driving from the east, there is a good chance that you may want to spend the weekend or a couple vacation days in Glenwood Springs. If you are looking for some things to do, here are a few suggestions.
Proposing at Hanging Lake
Hanging Lake is a picture perfect place for an engagement. The downside is that there is a lot of traffic on this popular Colorado trail. So, here are three tips that should help you out.
Go early on the weekend, on a weekday, or off-season. By early, I mean parking the car by 6:45 AM.
Hanging Lake is great, but Spouting Falls is, in my opinion an even more spectacular spot for an engagement, especially because you can walk underneath the waterfall.
There are some rocks on the back side of Hanging Lake that you could scramble up with your significant other and get engaged under the spray and sound of the waterfall along Hanging Lake.
For a great example of engagement photos, check out Kristen Hakes Photography's photo shoot at Hanging Lake and Spouting Rock.
History and Geology of Colorado's Hanging Lake
Hanging Lake was formed in a really interesting way. At some point in it's geologic history, about 1.5 acres of the valley floor dropped out and formed the bed of the lake. This happened because it sits right on a fault line. The blue and green colors in the lake is a result of the carbonates, minerals that have dissolved in the water. Most of the rock in this area is travertine, a kind of limestone that often precipitates out of hot springs and mineral springs.
It was supposedly first discovered by an early pioneer prospecting for gold in the area. He and his family lived on the real estate near Glenwood Springs for some years before the city of Glenwood Springs purchased it as a park. Hanging Lake is now under the authority and management of the White River National Forest. In 2011, Hanging Lake was declared a National Natural Landmark.
Links & Resources for Hiking Hanging Lake :
---
Aaron Johnson has been hiking in Colorado for over 20 years. The owner and editor of Dayhikes Near Denver, Aaron writes every trail profile as a local guide who has hiked hundreds of miles of trails along the Front Range and deep in the Rocky Mountains of Colorado.