The hike up to St. Mary's Glacier ascends through a beautiful forest and ends with stunning panoramic views–the kind you expect from a perfect short hike in Colorado. If you walk around St. Mary's lake then hike up the glacier, you will gain incredible views of the Rocky Mountains to the west. It is a quick hike–1.5 miles round-trip if you climb to the top, but only about 1 mile round trip if you only hike the lake and back. The St. Mary's Glacier trailhead is about an hour from Denver and a great way to beat the summer heat, as there's snow above the lake year-round.
ST. MARY'S GLACIER TRAIL SNAPSHOT
| | |
| --- | --- |
| Hike Distance | Approx. 1.5 mile Round Trip |
| Difficulty | Easy to Moderate |
| Duration | Approx 2 hr Round Trip |
| Trail Type | Out and Back |
| Elevation Gain | Approx. +1200′ to base of the Glacier |
| Seasons | Late Spring to Early Fall |
| Dogs | Allowed On Leash |
| Hike Trail Map | Click for a Map of St. Mary's Glacier near Idaho Springs, Colorado |
| Denver Drive Time | 55 min |
| Driving Directions to St. Mary's Glacier near Idaho Springs, Colorado | Click for Google Map |
| Town Nearest Hike | Idaho Springs, Colorado |
| Beauty | Forest hike, year-round snow, glacier, lake, bristlecone pine, mountain range views |
| Activities | Hiking, picnics, mountain biking, skiing and snowboarding on glacier, snowshoeing in the winter |
| Video | Click For a Video of St. Mary's Glacier hike |
| Fee | $5 Parking Fee |
It was the first day of June, and when I arrived at the base of St. Mary's Glacier, I could see snowboarders and skiers zig-zagging their way down its slopes! Even the trail up to St. Mary's lake was still decorated with snow. We only made it about halfway up the glacier as it was very slick and I didn't have my Yaktrax, but the views we got from (almost to) the saddle at top of the glacier were incredible.
Just St. Mary's Lake alone is breathtaking – especially in the morning calm, as it reflects the glacier in its mirror surface. It's a wonderful place to have a picnic before beginning the rocky descent back down the mountain. If you walk around the right side of St. Mary's Lake, you'll come to a bridge that takes you over a small stream – this is how you pick up the trail to hike up the glacier.
How to Get the Best Experience when Hiking to St. Mary's Glacier
First is parking at the St. Mary's Glacier Trailhead (this is important): There are two parking lots for the trailhead (one south of the trailhead which is fairly large and one north of it that's smaller) and both require you to pay a $5 fee and display a permit on your windshield. Permits are easily obtained from marked posts in both parking lots, but you'll need to bring your own pen to write down your license plate number on the fee envelope. Restrooms in the parking lots are a giant bonus and seemed (today, at least) to be very well-maintained. Do not park along the road as it interferes with access to homes and heavy fines are assessed.
The trail up to St. Mary's Glacier is surprisingly short – just about three-quarters of a mile to the top of the glacier – but the route is extremely rocky, and at times, it could be difficult for smaller children to scramble over larger rocks. The lower portion of the trail is quite dry, but as you ascend to the glacier there is a lot of wet and deep snow to traverse through. I'd recommend wearing hiking boots, or at the very least wearing water-resistant/treated shoes with good traction. The winter season at St. Mary's would surely demand snowshoes. If you are hiking in the winter, exercise real caution. Because this hike feels short and is accessible from the interstate, it's easy to forget that you are in an alpine environment. Be sure to stay the trail because this is an area where avalanches are possible on the neighboring slopes.
---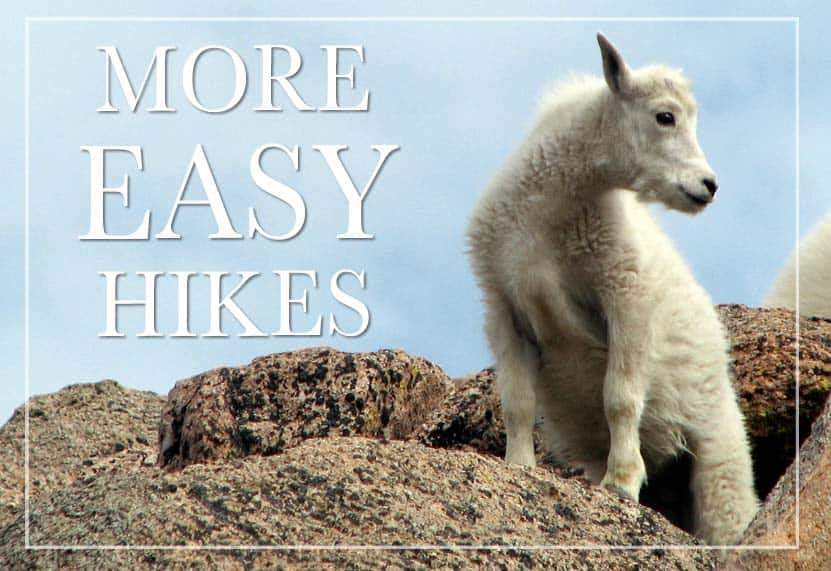 ---
The trailhead to the St. Mary's Glacier is well-marked, but after that there are no more signs for the trail itself. I've heard folks on the trail say that as long as you're climbing upwards you'll eventually reach the glacier, but this type of unmarked trail may be a bit intimidating for less experienced hikers. Personally, in the winter I just follow footsteps in the snow and in the summer I follow the small stream upwards (reduces to a light trickle of water in the late Summer) and I have always made it to the glacier just fine.
Dogs are allowed on the trail on leashes. They should really be kept leashed on the ascent and descent as the land the trail runs through is on private property. Be sure to bring some doggie bags to pick up after your best friend.
Tips & Resources for Hiking St. Mary's Glacier near Idaho Springs, Colorado:
Picnic Area: Pack a picnic! The St. Mary's lake is truly a stunning setting for a quick bite.
Snowboarding Area: Bring in skis/snowboards/sleds and have a blast on the glacier.
Ask for direction: The trail can pretty confusing of you've not hiked it before, so don't be afraid to ask hikers coming down if you're headed in the right direction.
Trail Map for St. Mary's Glacier near Idaho Springs, Colorado: Trail Map Link
Colorado Road Conditions: Colorado Road Conditions
After the Hike: Beau Jo's Pizza Idaho Springs
Hike Profile Credit: We would like to express our gratitude to Leslie W., a member of the Dayhikes Near Denver Pathfinder Team, who did this hike, wrote the trip report, and took the photos you see above. Thanks, Leslie!
Weather
Map & Driving Directions
Click for Driving Directions
---
Aaron Johnson has been hiking in Colorado for over 20 years. The owner and editor of Dayhikes Near Denver, Aaron writes every trail profile as a local guide who has hiked hundreds of miles of trails along the Front Range and deep in the Rocky Mountains of Colorado.