South Boulder Peak is a demanding 3.7-mile hike (one-way) situated above the South Mesa in the famous Flatirons region near Boulder Colorado. Hikers can bag nearby Bear Peak on the same trip and return via Fern Canyon to make an 8.7 mile loop. Explore the full South Bolder Peak hike profile below for the trail map, driving directions, and more tips and details to help you enjoy this adventure near Boulder, Colorado.
South Boulder Peak Trail Snapshot
| | |
| --- | --- |
| Hike Distance | 7.4 Miles Round Trip or approx. 8.7 Mile Loop |
| Difficulty | Difficult |
| Duration | Approx 3-5 hrs |
| Trail Type | Out and Back or Loop Option |
| Starting Elevation | 5650′ |
| Elevation Gain | Approx +2900′ South Boulder Peak 8550′ |
| Seasons | Year Round |
| Dogs | Allowed On Leash |
| Hike Trail Map | Click for a Map South Boulder Peak and South Mesa Trailhead |
| Denver Drive Time | 45 Minutes |
| Driving Directions to South Boulder Peak via South Mesa Trailhead | Click for Google Map |
| Town Nearest Hike | Boulder, Colorado |
| Beauty | Peak Top Views, Canyon, Wildflowers, Sunrise, Meadows, Wildlife: Deer, Bear, Birding. |
| Activities | Hiking, Trail Running, Photography |
Parking & Trailhead Information for South Boulder Peak
The trail to South Boulder Peak begins at the South Mesa Trailhead off of Eldorado Springs Drive just South of Boulder, Colorado. From Denver, drive North on interstate 25 to 36 toward Boulder. Take the McCaslin Blvd exit and then go South/West onto McCaslin. At the intersection of McCaslin and Marshall, take a right onto Marshall Road. Marshall will eventually intersect with Eldorado Springs Drive. Take a left onto Eldorado Springs Drive. About two miles down the road, you'll find the South Mesa Trailhead on the right. The South Mesa Trailhead is a part of the Boulder County Open Space and requires a daily parking fee, or an annual pass. I went online and bought an annual parking pass through the Open Space website. This gives you access to all the southern fee parking areas as well as the parking areas on Flagstaff Mountain. There are restrooms at the trailhead but not potable water.
The Hike: South Boulder Peak
If you study a map of the South Mesa area, you'll notice that it's a complex network of trails. Tis is great for exploring the mesa, but when summiting a peak, you'll want to preserve as much energy as possible by taking the most direct route. The first trail choice presents itself after crossing the bridge over small bridge that spans Boulder Creek.

We took the Homestead Trail, a 1.3 mile segment to a connector segment of the Mesa Trail. It will be marked "Mesa Trail" and have an arrow pointing left to the Shadow Canyon Trail and Right to the Towhee Trail. The way to South Boulder Peak will be to head left toward Shadow Canyon. During this first segment, you'll gain great views down into the entrance of Eldorado Canyon .
The first 0.4-mile segment of the Shadow Canyon South Trail is gradual. At any of the other trail intersections keep taking those marked "Shadow Canyon." Eventually, the trail leads into a densely wooded ravine where an old cabin is tucked away in the undergrowth
You'll know when you've entered Shadow Canyon because the trail becomes steep and demanding. It's more humid, too, so the rock can get slippery. Be mindful of your steps and prepared to ascend over a mile of fairly rugged terrain.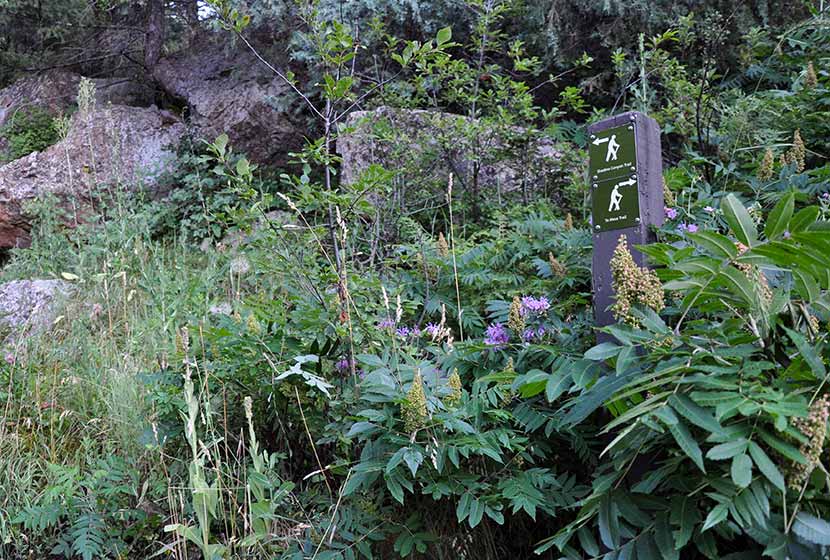 Shadow canyon is an access point for a prominent rock formation, Devils Thumb. Seasonal closures (see photo below) protect nesting raptors. Be sure to stay out of this area from Feb. 1st to July 31st. The Shadow Canyon Trail is not closed during this time, but refrain from going off-trail or taking social trails in the closure area during these periods.
The trail pops out of the canyon onto saddle between South Boulder Peak and Bear Peak. The first thing you'll notice is a burn area that stretches all the way to the top of South Boulder Peak. It's the result of the 2012 Flagstaff fire.
At the saddle ridge, another trail sign notes the way to South Boulder Peak, a 0.3 mile trail climbs to the summit. You'll notice that the trail to the right leads the same distance to Bear Peak.
At points, the trail becomes difficult to discern and requires a little bit of bouldering to make it to the top. Whenever I'm in these rocky segments, I try to be mindful of those behind me. It's easy to inadvertently cause a rock to shift and tumble toward the hikers below. Most of the rock is stable, but it's smart to be aware as you navigate these kinds of areas. The back side of the summit is exposed, so do not approach or descend the peak via this route. And be mindful of the exposure while on the peak.
The pink granite summit offers 360 degree panoramic views (see the video below).
You can also see the summit of Bear Peak just 0.6-mile to the Northeast. If you want to summit Bear Peak, be sure to review our Bear Peak Hike Profile.
From the summit of South Boulder Peak your options are to 1) Descend via the approach route (7.4 miles round trip), 2) Summit Bear Peak and return via the approach route (8 miles total), or 3) Summit Bear Peak and return via Fern Canyon (approx. 8.7 miles). It's important to know that the descent into Fern Canyon is more demanding than the return via Shadow Canyon. For the loop route via Fern Canyon, explore our Bear Peak Trail Profile.
Tips & Resources for Hiking to South Boulder Peak
Hiking with Your Dog: Though dogs are allowed on leash, I wouldn't put South Boulder Peak on the dog-friendly list because of the rocky area at the summit and the ascent up fern canyon.
TIP: Be ready for the hike down to be demanding on your knees and ankles, especially if you choose to descend via Fern Canyon. Trekking poles would be helpful.
Weather: As with all hikes on the Front Range, especially peak hikes, be weather aware. Thunderstorms can emerge suddenly, especially in the early afternoon in the Summer months.
Packing List: Always pack the 10 Essentials. Download our Hiking Guide to get the list and dayhiking packing checklist.
Colorado Road Conditions: Colorado Road Conditions
After the Hike Cafe: Walnut Cafe in Boulder
After the Hike Brewery: Sanitas Brewing Company
Weather
Map & Driving Directions
Click for Driving Directions
---
Aaron Johnson has been hiking in Colorado for over 20 years. The owner and editor of Dayhikes Near Denver, Aaron writes every trail profile as a local guide who has hiked hundreds of miles of trails along the Front Range and deep in the Rocky Mountains of Colorado.