The Petrified Forest trail is an easy 1.5 mile loop hike just a 50 minute drive from Colorado Springs. This hike at the Florissant Fossil Beds National Monument takes you past the fossilized stumps of ancient sequoia trees, over rolling mountain meadows with views of snowcapped peaks, and is a great way to learn about the geology of Colorado while enjoying nature with your family. Explore the full Petrified Forest hike profile below for trail map, driving directions, and more tips and details to help you enjoy this hike near Colorado Springs.
Trail Snapshot: Petrified Forest Loop at Florissant Fossil Beds
| | |
| --- | --- |
| Hike Distance | 1 to 1.5 miles Round Trip |
| Difficulty | Easy |
| Duration | Approx 1hr |
| Trail Type | Loop |
| Starting Elevation | 8200′ |
| Elevation Gain | Approx +100′ |
| Seasons | Year Round |
| Dogs | Pets are not allowed on the trails |
| Hike Trail Map | Click for a Map of Hiking Trails Map at Florissant Fossil Beds |
| Denver Drive Time | 2 hours |
| Driving Directions to Florissant Fossil Beds | Click for Google Map |
| Town Nearest Hike | Florissant, Colorado |
| Beauty | Petrified stumps of ancient sequoia trees, high plains meadows, early homestead ranch, pine and aspen woods, shale outcrop ,and other geological areas of interest |
| Activities | Hiking, photography, fossil displays, interpretive signs and outdoor exhibits, Junior Ranger activity, Shadows of the Past movie at the Visitor Center, and guided Ranger-led programs. |
| Fee: | A Day Pass Fee is Required for this Site. We recommend getting the America the Beautiful pass each year. |
Parking & Trailhead Information for Florissant Fossil Beds National Monument
The Scenic Drive Option
The scenic drive from Denver to Florissant Fossil Beds is only about 10-15 minutes longer, and with the construction on interstate 25 between Castle Rock and Monument (2019-2022). Here's a link to driving directions for the scenic route through Deckers and West Creek to Woodland Park. This route takes 285 toward Pine, then picks up CO67 for a windy, but beautiful drive through Pike National Forest lands. In Woodland Park, take a right onto US-24 West. Go about 8.4 miles then turn left onto Twin Rocks Road. Drive about 5.8 miles to Teller County Rd 1. Take a right onto Teller County Rd 1, then after about 0.8 mile, take a left into the entrance of the Florissant Fossil Beds National Monument.
Directions Via Interstate 25
Take Interstate 25 South to Colorado Springs where you'll exit on exit 141 onto US-24/West Cimarron St. Head West on 24 into the canyon that winds up to Woodland Park. In Woodland Park, stay on US-24 West. After passing the Dinosaur Museum in Woodland Park, you'll drive about 5.8 miles then turn left onto Twin Rocks Road. Drive about 7 miles to Teller County Rd 1. Take a right onto Teller County Rd 1, then after about 0.8 mile, take a left into the entrance of the Florissant Fossil Beds National Monument.
Visitor Center and Trailhead
Florissant Fossil Beds is a National Monument and managed by the National Parks office. Like all Federal Recreation sites, entrance to the monument requires a fee. We get an America the Beautiful Pass every year, giving our family access to more than 2000 federal recreation sites, including Florissant Fossil beds. There are restrooms at the visitor center, as well as an interpretive center. Feb. 1 through Nov. 9th, the visitor center and trails are open from 9AM-5PM, and Winter hours are 9AM-4:30PM. It's Closed during New Years, Thanksgiving, and Christmas days.
The Hike: Petrified Forest Hike
There are two short loop trails that you can hike from the visitor center. The first is the 1-mile Petrified Forest Loop, and the second is the 1/2 mile Ponderosa Loop. We recommend combining the two loops to make a 1.5-mile hike.
Petrified Forest Loop
This trail is the centerpiece of the national monument. Start by picking up a guide at the visitor center and first checking out the covered exhibits directly behind the visitor center. The guide will have explanations of the different sites marked by a series of numbered posts along the trail. The Petrified Forest Loop can be hiked in any direction. The trail leads into the ancient bed of Florissant Lake, an area rich in silica that settled in layers to fossilize plants and insects throughout this area.
Along the trail, you'll pass through open meadow and wooded areas. Fences mark protected stumps of the giant petrified trees that once dominated this high plains environment. Geologists believe volcanic eruptions triggered mudslides that covered the prehistoric forest floor. That mud was rich in silica-based minerals that soaked the wood, eventually replacing its organic material and fossilizing it.
Eventually, the trail will take you to the Big Stump, the largest of the petrified trees not removed by early collectors. When here, take your phone out and turn on the ruler tool. Mark the base of the tree, then extend your phone into the air until it marks 250 feet. That will give you an idea of the size of these trees.
The Ponderosa Loop
After the Petrified Forest Loop, head into the shade of the Ponderosa Loop. This easy, 1/2-mile trail is wheelchair accessible and made of packed, crushed gravel. This loop trail is located in the trees south of the Stump Shelter and Amphitheater. Keep your eyes peeled for Abert's Squirrels, large black squirrels that have long, pointed and tufted ears. From this trail, you can also pick up the Sawmill Trail that loops around the southwest area of the park.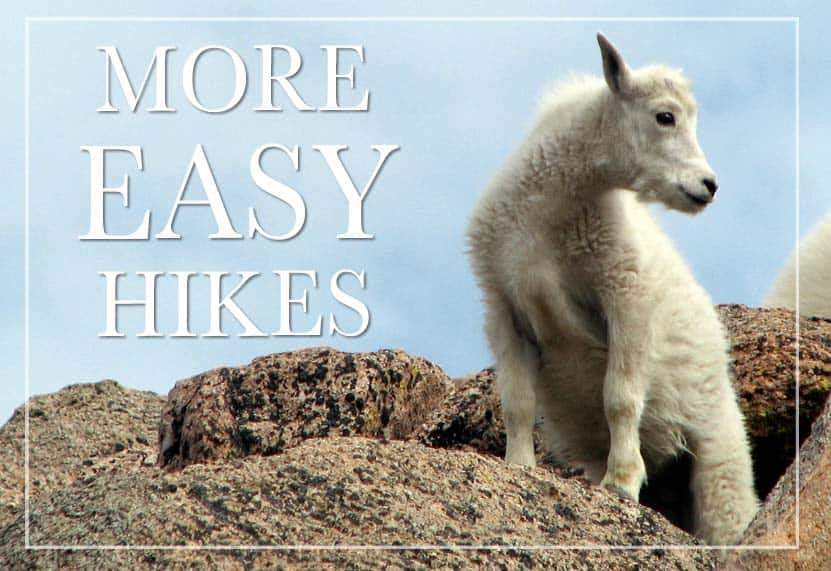 Tips & Resources for Hiking the Petrified Forest at Florissant
An Educational Experience: The Florissant Fossil Beds are a great place to take your family to learn about the geology of Colorado. The National Monument page provides a Hike Activities lesson plan for educators.
Stargazing: During most months, the park offers stargazing opportunities through their Night Sky Programs. It starts with a short ranger-led talk then turns to 90-minutes of enjoying the stars through the lens of telescopes with volunteers from the Colorado Springs Astronomical Society.
Trail Map: Florissant Fossil Beds Hiking Trail Map
Packing List: Always pack the 10 Essentials. Download our Hiking Guide to get the list and dayhiking packing checklist.
Colorado Road Conditions: Colorado Road Conditions
Photo: We would like to express our gratitude to Patricia Henschen , David Fulmer , and Jasperdo for sharing such an amazing photographs of this hike to at Ute Valley Park.
After the Hike: Iron Tree Table and Taps in Florissant
Weather
Map & Driving Directions
Click for Driving Directions
---
Aaron Johnson has been hiking in Colorado for over 20 years. The owner and editor of Dayhikes Near Denver, Aaron writes every trail profile as a local guide who has hiked hundreds of miles of trails along the Front Range and deep in the Rocky Mountains of Colorado.