Ute Valley Park offers an easy 3-mile loop hike in the heart of northern Colorado Springs with views to snow-capped Pikes Peak. The trails make for a quick break from the city to trail run or walk the dog. Get the trail details, map, and driving directions in our full trail profile.
Trail Snapshot: Ute Valley Park
| | |
| --- | --- |
| Hike Distance | 2.5 to 3 miles Round Trip |
| Difficulty | Easy |
| Duration | Approx. 1.5 |
| Trail Type | Loop |
| Starting Elevation | 6550′ |
| Elevation Gain | Approx +200′ |
| Seasons | Year Round |
| Dogs | Allowed On Leash |
| Hike Trail Map | Click for a Map of Ute Valley Park Trails |
| Denver Drive Time | 1 hr 15 min |
| Driving Directions to Ute Valley Park | Click for Google Map |
| Town Nearest Hike | Colorado Springs, Colorado |
| Beauty | Views of Pikes Peak, Pope Bluffs formation, Juniper and Ponderosa Pine, Desert Wildflowers |
| Activities | Hiking and Mountain Biking |
Parking & Trailhead Information for Ute Valley Park
From Denver, take Interstate 25 South to Colorado Springs, exiting on exit 149 and taking a right onto East Woodman Road. East Woodman will turn into Rockrimmon Road. Next, take a right onto Vindicator Drive. The entrance to Ute Valley Park will be up on your left, just after you pass the Middle School. There is a portable toilet at the trailhead and parking for about 20 vehicles.
The Hike: Ute Valley Park
Ute Valley Park is nestled in the subdivisions of Colorado Springs, North of the city center providing residents with a quick escape from town for an after work trail run, mountain bike, and place to walk the dog. There are about 20 different unnamed trail segments, but for our purposes, we will look at a 3 mile loop and a shorter 2.5 mile option.
From the trailhead, take the trail that heads south out of the lot and hike west towards the bluffs. This approach will take us on a counterclockwise loop hike of the trails. Alternatively, you can hike it counterclockwise by reversing this description. Ignore the other trails at the juncture and keep and heading south, the trail will gradually rise to gain the low ridge of Popes Bluff. Along this stretch you'll soak in the sunshine and views out to Pikes Peak.
This stretch of trail is the longest and goes for about a mile to an overlook at the southwest end of Ute Valley Park. You'll pass through one trail intersection before you come to that overlook point. However, if you want to cut off 1/2 a mile and make this a 2.5 mile loop, take a left at that juncture for a more rugged trail that cuts over to the east side of the park and reconnects with this loop. Though in the city, you'll be taking in the aromatics of ponderosa pine and the same juniper trees that are found along the trails in Garden of the Gods.
Continuing with our 3-mile loop description, at the overlook, you have a couple options, but we'll go straight through on the trail that wraps around the most southern end of Ute Valley. See the Ute Valley Park Trail Map for detail.
After about 0.4 of a mile, the trail will begin turning North, traveling along the eastern edge of the park. You'll encounter about 5-6 trail junctures along this stretch. At each juncture, continue on the easternmost trail (keep bearing to the right, or hike straight through). You'll cross over a footbridge and after approximately another another 1/2 mile will be back at the parking lot.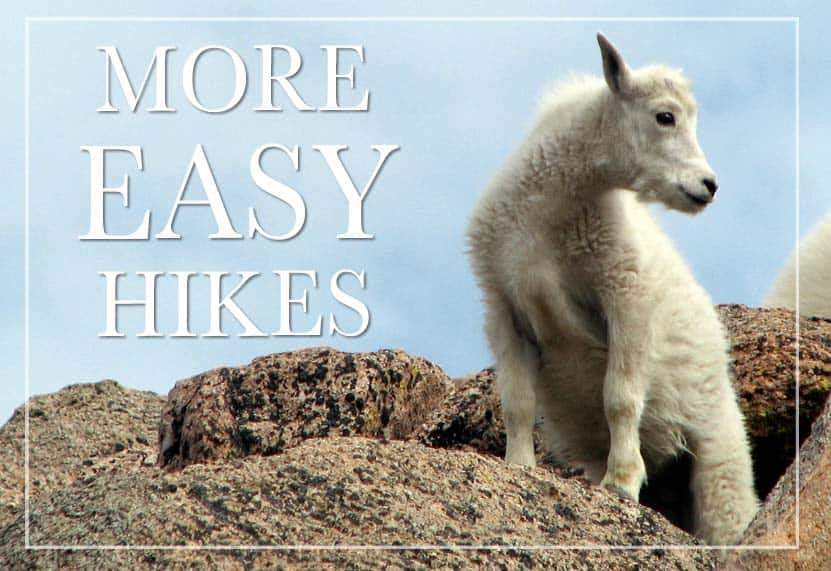 Tips & Resources for Hiking Ute Valley Park
Weather
Map & Driving Directions
Click for Driving Directions
---
Aaron Johnson has been hiking in Colorado for over 20 years. The owner and editor of Dayhikes Near Denver, Aaron writes every trail profile as a local guide who has hiked hundreds of miles of trails along the Front Range and deep in the Rocky Mountains of Colorado.