For those who are looking for a nice hike that incorporates the highland meadows of Colorado and views to snowcapped mountains, then the Elk Range Trail at Centennial Cone Park is the perfect hike. The Elk Range Trail can be hiked as an out-and-back 6.6 mile adventure, starting from one of two different trailheads. We saw a lot of wildlife and few people. Explore the full trail profile below for trail details, Centennial Cone park map, driving directions, and more.
Trail Snapshot: Elk Range Trail at Centennial Cone
| | |
| --- | --- |
| Hike Distance | 6.6 miles Round Trip |
| Difficulty | Easy to Moderate |
| Duration | Approx 2.5 hr |
| Trail Type | Out and Back |
| Elevation | +446'/-314′ |
| Seasons | All Year (closes during hunting season) |
| Dogs | Allowed on Leash |
| Hike Trail Map | Click for a Map of Centennial Cone Park |
| Denver Drive Time | 42 min |
| Directions | Click for Google Map |
| Town Nearest Hike | Golden, Colorado |
| Beauty | Upper foothills and the peaks of the Rockies beyond, high country meadows, grazing cattle and horses, elk and whitetail deer |
| Activities | Horseback riding, hiking, mountain biking and wildlife viewing |
| Video | Click For Video |
| Weekend Use | Odd days hiker-only, Even days bike-only |
Looking East towards Centennial Cone
Elk Range Trail at Centennial Cone Profile
F
or a high country hike
the elevation gains and descents are very gentle, and the inclines are not difficult. Centennial Cone Park is about 10 miles west of Golden, Colorado, and feels like a backcountry trail in many ways.
You have two trailhead options when taking the 6.6 mile Elk Range Trail.The driving directions link above are for the Centennial Cone Road trailhead. A North Centennial Cone Park Trailhead has equestrian trailer parking and can be located at this link. Our trail profile here describes the trail hiking from West to East.
From the Centennial Cone trailhead, you immediately find yourself surrounded by green open fields. At about half a mile in you'll encounter a fence with a gate. When you walk through the gate, you'll be on private property for a few hundred yards. Jefferson County parks has some sort of easement, so continue your hike but stay on the trail, until you get to the other gate. There are horses and cows that wander about the area without fences, so they may be on the trail when you arrive. Another reason to be sure that the gates close behind you.
Hiking along the Elk Range Trail, I couldn't help wondering, "Can you hike up to the top of Centennial Cone?" There is no trail on the map but there appears to be the vestiges of an old road or trail leading up the North end of Centennial Cone. Because I haven't hiked it yet, I can't recommend it, but the old trail can be found just before the trail enters private property. Where the trail bends just before the gate, you can follow a set of what look to be markers for an underground gas line. These lead up to the trail at the base of Centennial Cone. This is as far as I explored, and hope to get back to attempt a hike to the top of the cone.
It's important to know that on the weekends the trail alternates from hiker-only to biker-only. Here's how to keep track of it: Odd days are hiker only and even days are bikes only.The weekdays are open to both hikers and mountain bikers.The park is closed during certain days for hunting season. You can get the exact closure dates from the Centennial Cone page of Jefferson County's opens space site.
If you've started from the Centennial Cone Road trailhead and would like a pleasant and beautiful drive home, take Highway 6 through Clear Creek canyon, and into Golden.
Tips & Resources for Hiking the Elk Range Trail:
Mud: The Elk Range Trail can be a bit muddy after a good rain. You'll want to bring appropriate gear if you're planning a hike after a storm for a good day or two, including sturdy shoes.
Storms: The Elk Range Trail is at a high enough altitude that you'll want to keep an eye out for thunderstorms. There is very little cover on this trail, so check the weather report before heading out as well.
After the Hike: Cafe13 in Golden
Road Conditions: Colorado Road Conditions
Trail Map for Centennial Cone Park: Trail Map Link
Weather
Map & Driving Directions
Click for Driving Directions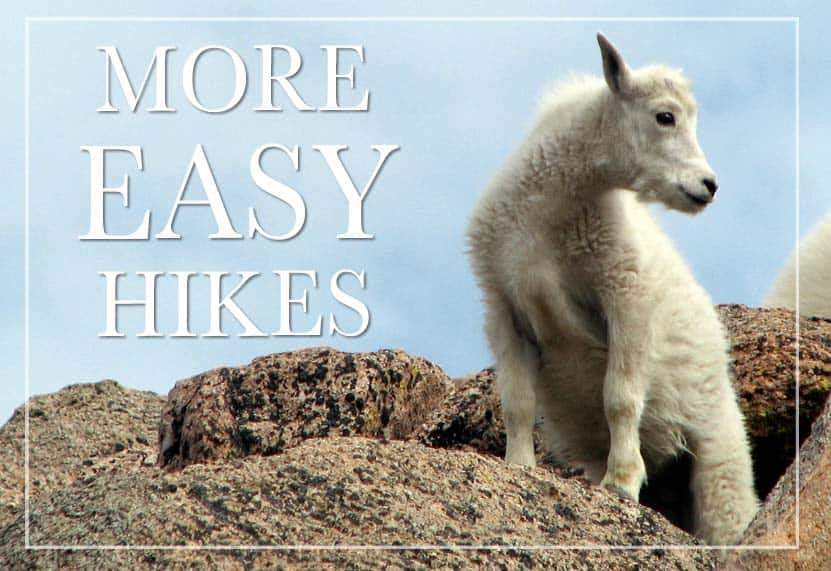 ---
Aaron Johnson has been hiking in Colorado for over 20 years. The owner and editor of Dayhikes Near Denver, Aaron writes every trail profile as a local guide who has hiked hundreds of miles of trails along the Front Range and deep in the Rocky Mountains of Colorado.