California may boast Yosemite, but Colorado offers the Indian Peaks Wilderness valley. And within this wilderness, one happens upon an arresting sight — Mirror Lake and Crater Lake, dutifully monitored by the impressive Lone Eagle Peak. Long considered an iconic range, the Indian Peaks give hikers an endless stream of prime photography, wildflowers, and "Look at that!" moments. From the trailhead to Mirror Lake hikers encounter a half-dozen waterfalls, any one of which would capture all-star status on another trail!
Explore the full Crater Lake Hike profile below for trail map, driving directions, and more tips and details to help you enjoy this bucket list hike just west of Denver.
Trail Snapshot: Crater Lake via Mirror Lake
| | |
| --- | --- |
| Hike Distance | 15 miles Round Trip |
| Difficulty | Difficult |
| Duration | Approx 7-8hrs |
| Trail Type | Out and Back |
| Starting Elevation | 8,400′ |
| Elevation Gain | Approx +2,500′ |
| Seasons | Year Round |
| Dogs | Allowed On Leash |
| Crater Lake Hike Map | Click for Trail Map of Crater Lake Hike |
| Denver Drive Time | 2.5 hours |
| Driving Directions to Monarch Lake Trailhead | Click for Google Map |
| Town Nearest Hike | Granby and Grand Lake, Colorado |
| Beauty | Indian Peaks Wilderness, wildflowers, waterfalls, lakes |
| Activities | Hiking, Snowshoeing, Camping |
Lone Eagle Peak
Parking & Trailhead Information for Crater Lake Hike
From Denver, head west on I-70 to exit 232 for Highway 40W. Climb up the gorgeous Berthoud Pass and through Winter Park on to Granby, CO. Barely out of Granby, look for Highway 34 off to the right, heading northeast. Follow this for five miles to Route 6; turn right onto Route 6. If you do not have an annual National Park pass ("America the Beautiful" pass), a self-pay station sits off to the left as you enter. The U.S. Forest Service does regularly check for passes or purchased day-use permits. To reach the Monarch Lake Trailhead, continue on Route 6 for another nine miles. With campers, hikers, and sightseers, the lot fills quickly.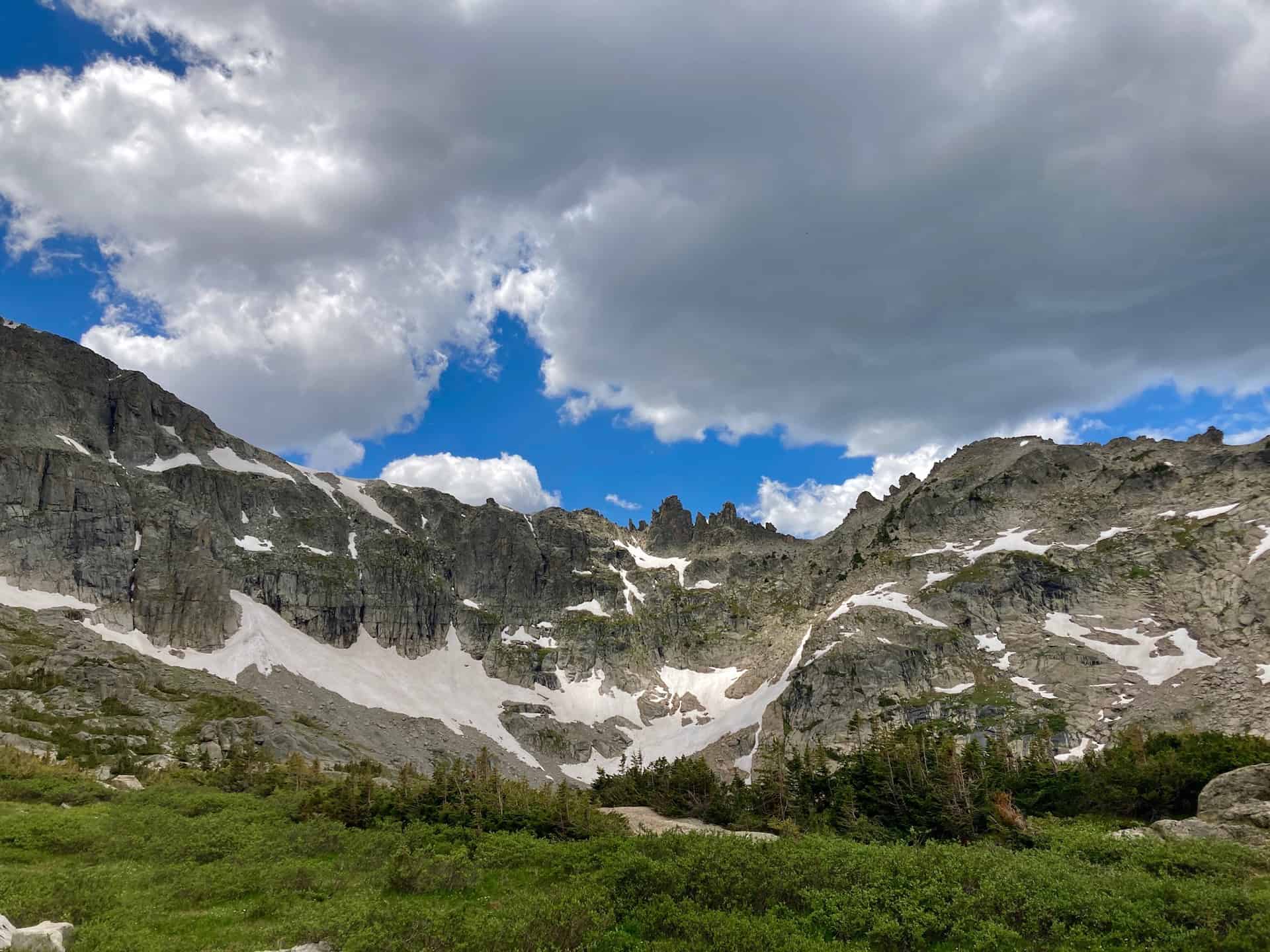 The Indian Peaks range
The Hike: Crater Lake Hike in the Indian Peaks Wilderness
Beginning from the eastern edge of the Monarch Lake Trailhead parking area, the trail commences immediately after metal gate leading to the lake. At the lake, a three-panel sign orients visitors to the recreation area. Staying left, hugging the northern rim of the lake, the trail proceeds along the shore with views into the valley soon to be explored. At 1.5 miles, a juncture peels off to the right to circumnavigate the lake; this trail stays left and begins a moderate climb up through Hell Canyon, along Buchannan Creek. While the name feels foreboding, the trek is quite pleasant as it ascends through a forest with periodic windows down onto the rushing creek. The first key junction appears at 3.5 miles, where the trail stays straight, remaining on the Cascade Creek Trail:
Trail Junction #1: Cascade Creek Trail
The trail continues gently through the forest, and the waterfalls start punctuating the creek's flow. Time and again, hikers will have reason to stop, listen, and marvel at water crashing down from 10-50ft or more above. Many of the falls tempt travelers to walk up close…be VERY attentive. The falls show no mercy if you take a dip!
Waterfalls along Buchannan and Cascade Creeks
Over the next three to 3.5 miles the trail gains approximately 1,200, but the scenery so powerfully captures one's sense of awe that the ascent passes unnoticed. Wildflowers, valley floors etched with streams, creek crossings on logs, peaks and crags and more waterfalls…the sights never stop. The only thing stopping hikers is another key junction, this time for the turnoff (to the right) for Crater Lake Trail:
Trail Junction #2: Crater Lake Trail
Staying right and feeling another ascent, push on for 1 mile toward Mirror Lake:
Mirror Lake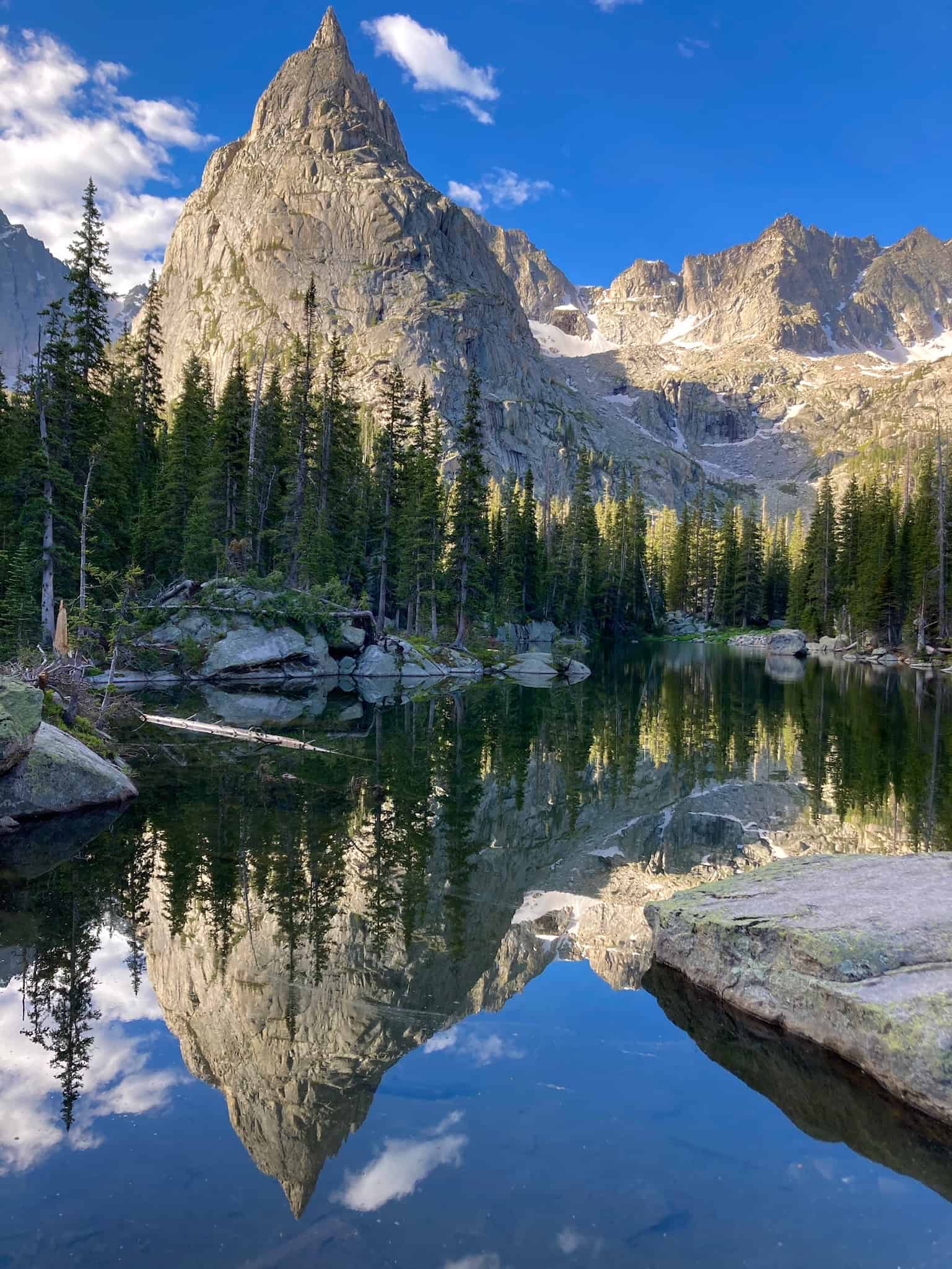 Lone Eagle towering over Mirror Lake
Barely 1/4-mile beyond this, take in the majestic setting of Crater Lake:
Crater Lake
By far the hardest part of the hike now hits — the decision to return to the trailhead! Given the effort required to reach Crater Lake, hikers often linger and grab a snack from their pack. Wise and attentive backcountry explorers will take note of the time, assuring themselves of sufficient daylight for a safe return hike. Weather can shift quickly in the wilderness, and rushing back over 7-8 miles increases risk of injury. Plan ahead. However, all cautions in hand, with diligent prep work, the Crater Lake Hike via Mirror Lake stands among the best of all wilderness hikes in Colorado.
Tips & Resources for Hiking to Crater Lake in the Indian Peaks Wilderness
Weather
Map & Driving Directions
Click for Driving Directions
---
When I hike, I am home. The singular clarity that floods my mind and heart while on a trail cannot be replicated anywhere else! Whether scaling 14ers or bushwhacking to a hidden falls, I've logged 20 years of trekking this beloved state. My wife and I moved many times in our 20+yrs of marriage, but our souls always resided right here. Along with our adopted rescue dog, Ramsie Ruth, we cherish our opportunity to serve at Denver Seminary and contribute to the well-being of the people around us. Welcome to Day Hikes Near Denver, welcome a little bit of heaven!