Mt. Sniktau may be the most accessible and breathtaking summit hike near Denver. This 4-miles, moderate hike up to Sniktau travels across high country tundra along ridgelines with views of Grays and Torrey peaks and views of the Gore Range of mountains in the north. Considered a year-round hike this trail is popular with hikers wanting to get in shape for Summer 14er summits.
Trail Snapshot: Mt. Sniktau
| | |
| --- | --- |
| Hike Distance | 4 miles Round Trip |
| Difficulty | Moderate |
| Duration | Approx 2-3 Hours |
| Trail Type | Out-and-Back |
| Starting Elevation | 11,990′ |
| Elevation Gain | Approx +1635′ |
| Seasons | Year Round |
| Dogs | Allowed On Leash |
| Hike Trail Map | Click for Trail Map of Mt. Sniktau Hike Map |
| Denver Drive Time | 1 hour |
| Driving Directions to Loveland Pass Trailhead for Sniktau | Click for Google Map |
| Town Nearest Hike | Dillon, Colorado |
| Beauty | Views of the Rocky Mountains and Loveland Pass area, Views of local ski areas, Summit, Alipine tundra |
| Activities | Hiking |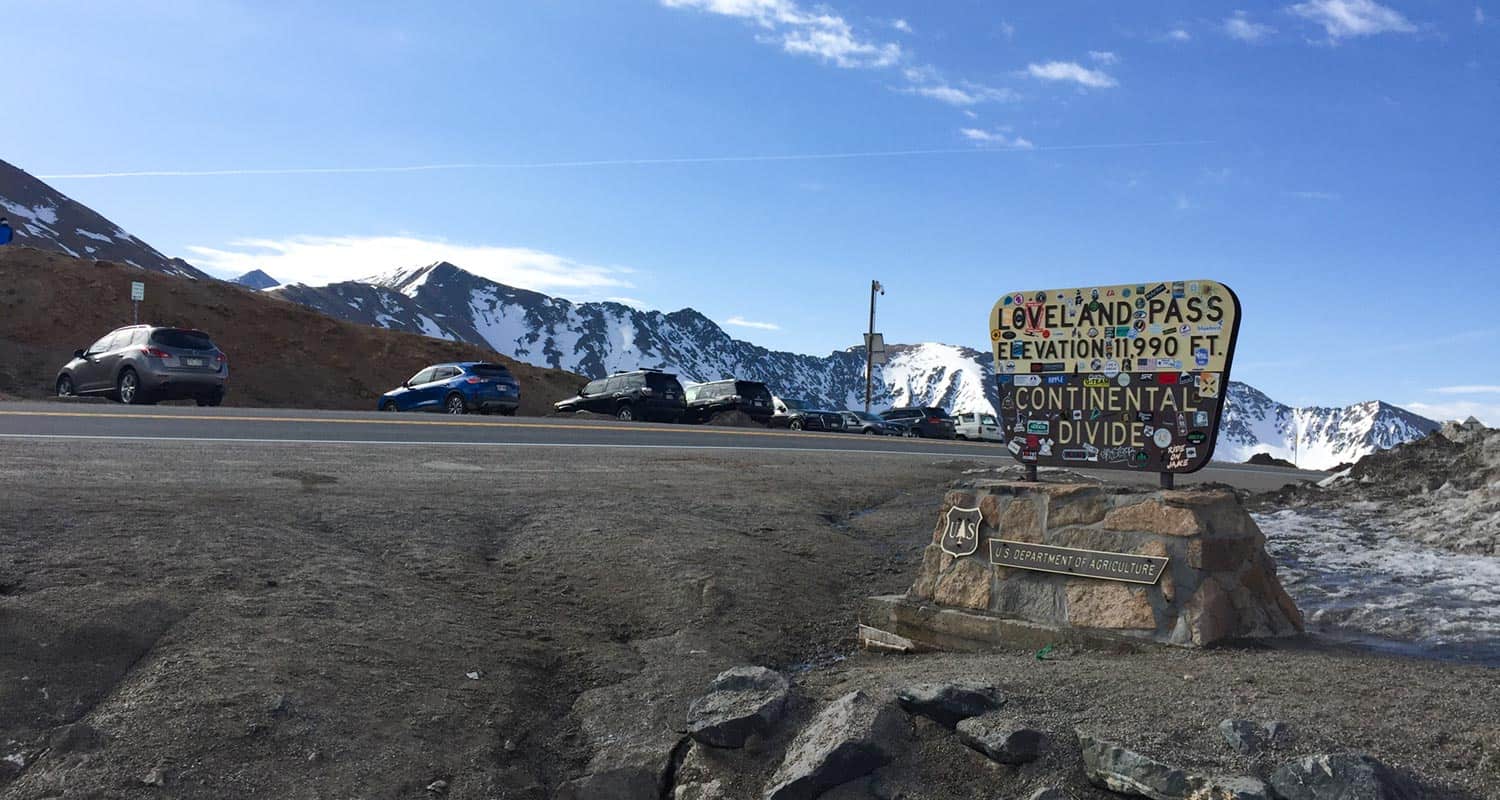 Parking & Trailhead Information for Mt. Sniktau
The trailhead at Loveland Pass for Mt. Sniktau and Grizzly Peak has capacity for about 25 vehicles with additional roadside parking on the opposite side of the road. Do be aware of vehicles coming over the pass when crossing. They can come at high speeds and visiblity is limited. There are no restrooms or other facilities at the trailhead.
The Hike: Mt. Sniktau
The hike begins by climbing a short set of rock steps up to the trail. After a few hundred yards of gentle grade, the trail becomes more steep as it follows a ridgeline across the high country tundra. It's important to note that this ecosystem is fragile, so going off trail and indavertantly stepping on plants and flowers can do permanent damage or require these unique flora years to recover. Additionally, because this trail is so accessible from Denver, off-trail hiking creates areas where erosion can wash out segments of the mountainside. So, stay the trail as you take in the incredible views on the way up to the first "summit." This first segment from the trailhead to the trail split is about 0.8 mile.
At the first summit, hikers will find a couple rock windbreaks created by past hikers. It's a great place to take in the 360 degree views with a bit of shelter from the wind. If you don't want to continue on to Mt. Sniktau, an out-and-back hike to this point is about 1.5 miles total. The trail splits on this plateau, the way to Grizzly peak is on the right (south) and the way out to Mt. Sniktau is left (northeast).
The trail out to Mt. Sniktau is another 1.2 miles from this point, and an easy hike as far as summiting a Colorado 13er goes. Many hikers use this as a winter or early season training hike to acclimatize for doing 14ers during the Summer months. The trail follows the ridgeline to a false peak, then makes its way up another steep and rocky segment to the summit of Mt. Sniktau.
From the summit of Mt. Sniktau, you can take in views of several Greys and Torrey peaks as well as Grizzly Peak to the south. Looking down in the bowl on the south side, blue alpine lakes show through the snowcover, and to the west, you'll see what looks like endless mountains.
Hike back to the Loveland Pass trailhead on the same trail leading to the summit.
Tips & Resources for Hiking Mt. Sniktau
Be Weather Aware: Mt. Sniktau is known for being an all-season hike, relatively safe when it comes to avalanche danger. However, heavy snows can change that in moments. The entire trail is exposed, so climb early before the early afternoon thunderstorms roll in during the Summer.
Grizzly Peak: If you are considering including Grizzly Peak to your itinerary, this will add about 3.5 miles of trail and a more demanding summit segment to the hike.
Trail Map: Mt. Sniktau
Packing List: Always pack the 10 Essentials. Download our Hiking Guide to get the list and dayhiking packing checklist.
Colorado Road Conditions: Colorado Road Conditions
After the Hike: http://www.thepourhousecoffee.com/
Weather
Map & Driving Directions
Click for Driving Directions
---
Aaron Johnson has been hiking in Colorado for over 20 years. The owner and editor of Dayhikes Near Denver, Aaron writes every trail profile as a local guide who has hiked hundreds of miles of trails along the Front Range and deep in the Rocky Mountains of Colorado.