Mohawk Lakes are situated in the mountains south of Breckenridge, Colorado. Less than a 2-hour drive from Denver, this moderately demanding hike leads through pine and aspen forest, along a mountain stream, to a beautiful waterfall spilling over granite slabs. Breaking out above treeline at mile 3, hikers will arrive at Lower Mohawk Lake, and a bit further up the trail, can take in spectacular views of the neighboring mountain ranges at Upper Mohawk Lake. Explore the full Mohawk Lakes hike profile below for trail map, driving directions, and more tips and details to help you enjoy this adventure near Breckenridge.
Trail Snapshot: Mohawk Lakes Trail near Breckenridge, Colorado
| | |
| --- | --- |
| Hike Distance (Lower Mohawk Lake) | 6 miles Round Trip |
| Hike Distance (Upper Mohawk Lake) | 6.8 miles Round Trip |
| Difficulty | Moderate |
| Duration | Approx 4 hrs |
| Trail Type | Out and Back |
| Starting Elevation | 10380′ |
| Elevation Gain (Lower Mohawk Lake) | Approx +1380′ |
| Elevation Gain (Mohawk Lake) | Approx +1730′ |
| Seasons | Year Round |
| Dogs | Allowed On Leash |
| Hike Trail Map | Click for a Map of Mohawk Lakes near Breckenridge |
| Denver Drive Time | 1 hr 40 min |
| Driving Directions to Spruce Creek Trailhead | Click for Google Map |
| Town Nearest Hike | Breckenridge, Colorado |
| Beauty | Waterfall, lakes, cabin ruins, creek, mountain views |
| Activities | Hiking, photography, horseback riding, fishing |
Parking & Trailhead Information for Mohawk Lakes Hike
From Breckenridge, follow CO 9 South to The Spruce Creek Road. This is found on the right/west approximately 2.5 miles from the south end of town (junction of Main and South Park Ave). The trailhead for this hike to Continental Falls is located approximately 1.1 mile up Spruce Creek Road. This is the Spruce Creek Trailhead.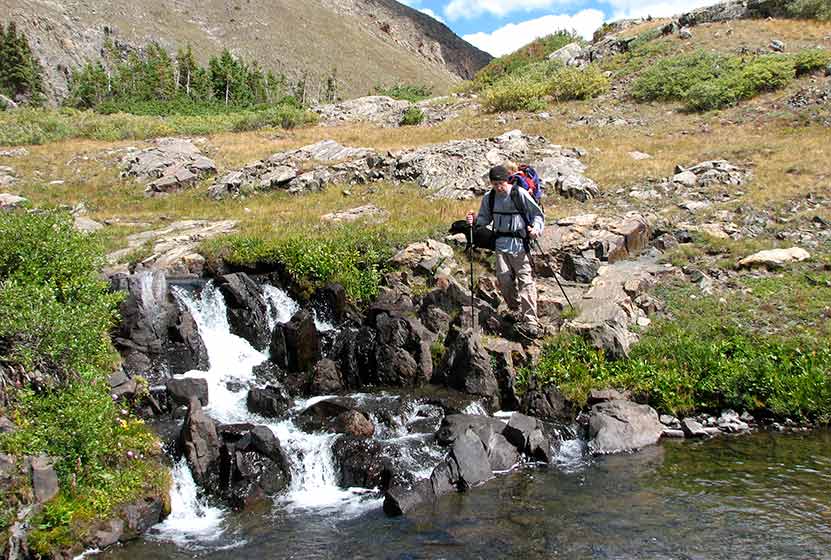 A Cascade Spilling out of Mohawk Lake
The Hike: Mohawk Lakes Trail
From the trailhead, hikers will follow the Spruce Creek trail, which is marked by blue diamond blazes painted on the trees along the trail. About 1/2 mile into the hike, the trail crosses Spruce Creek via a footbridge. Here the forest opens to provide views of Mt. Helen to the West. At approximately the 1.7 miles mark, the Spruce Creek trail intersects with the Wheeler Trail. At this junction, continue straight on Spruce Creek Trail.
At approximately 2 miles, the Spruce Creek trail joins up with a 4WD road for a short jaunt past a small dam, then reconnects with the Spruce Creek trail. At about 2.5 miles into the hike, the trail intersects with the Mayflower Lakes Trail. Proceeding left (southwest) will lead to Mohawk lakes and past a beautiful granite waterfall, Continental Falls. This segment of the trail is one of my favorites, as it leads past the ruins of a mining operation complete with cabins, mine shaft, and old mining equipment. Exercise caution around such areas as hikers have been been injured or lost their lives by entering mining shafts and adits. Take a moment to read the signage around these areas for details.

An Old Mine Shaft along the Trail
There are more cascades to taken in between Continental Falls and Lower Mohawk lake. At approximately the 3-mile mark, hikers will arrive at beautiful Lower Mohawk lake, surrounded by rugged mountainsides with the peak of Mt. Helen directly north of the center of the lake. The trail continues for about 0.3 miles and another 450′ of elevation gain to Upper Mohawk Lake where you can take in the expansive views of Colorado's majestic Tenmile Range of the Rocky Mountains. Because this is an out-and-back trail, the way back to the trailhead is the reverse of the same trail hikers take to the lakes.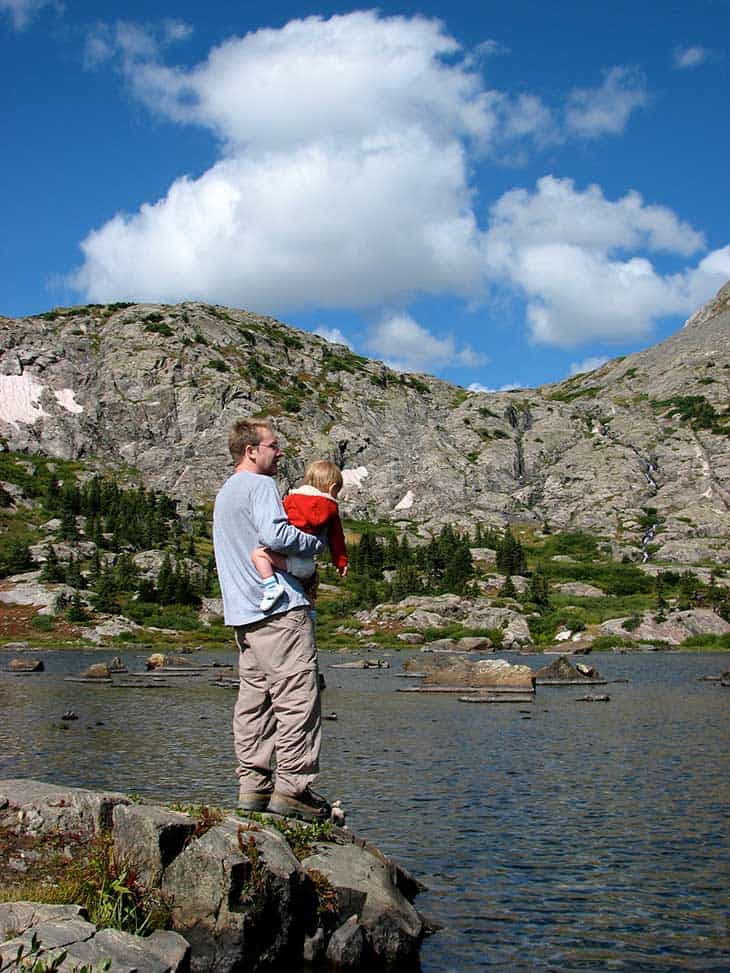 At the shore of Lower Mohawk Lake
Tips & Resources for Hiking the Mohawk Lakes Trail
TIP: You will be hiking through alpine tundra, which is a fragile ecosystem. Be sure to stay on the trail and hike only on durable surfaces if you are hiking or fishing along the lakes.
TIP: There are mine ruins off trail nearby. Be careful as mines have been known to collapse and to produce poisonous gases.
Trail Map: Mohawk Lakes Trail near Breckenridge
Packing List: Always pack the 10 Essentials. Download our Hiking Guide to get the list and dayhiking packing checklist.
Colorado Road Conditions: Colorado Road Conditions
After the Hike: The Crown
Weather
Map & Driving Directions
Click for Driving Directions
---
Aaron Johnson has been hiking in Colorado for over 20 years. The owner and editor of Dayhikes Near Denver, Aaron writes every trail profile as a local guide who has hiked hundreds of miles of trails along the Front Range and deep in the Rocky Mountains of Colorado.