his trail is great place to begin if you plan to explore the west side of Castlewood Canyon. It's a short hike, but the Homestead Trail can be used to link up to other hiking trails in this Colorado State Park. Scroll down to get all the hiking info you need in the trail snapshot, trail options descriptions and tips.
Trail Snapshot: Homestead Trail at Castlewood Canyon
| | |
| --- | --- |
| Hike Distance | 2 or 4 mile options RT (see trail options below) |
| Difficulty | Easy to Moderate |
| Duration | Approx 30 min+ Round Trip |
| Trail Type | Out & Back and Loop Options |
| Seasons | All |
| Dogs | Allowed on Leash in Most Areas, But Not on the East Canyon Trail |
| Hike Trail Map | Click for a Map of Homestead Trail at Castlewood Canyon |
| Denver Drive Time | 45 min |
| Driving Directions to Homestead Trail at Castlewood Canyon | Click for Google Map |
| Town Nearest Hike | Castle Rock, Colorado |
| Beauty | Cherry Creek, waterfall, interesting geology, canyon views, ruins |
| Activities | Hiking, great picnic facilities, mountain biking, horseback riding |
| Fee Required | Visit Colorado State Parks Site |
The Homestead Trail in Castlewood Canyon is the first trail you will encounter as you enter the west side of the park. Park at the first lot and you'll immediately see the ruins of the old Lucas Homestead, an unusual concrete structure built in the late 1800's.
The trail is less than a mile round trip, but it links up with several other trails which form 2 loops. Download the Castlewood Canyon Brochure & Trail Map to get a better idea of how these two loops work.
4 Mile Loop: Hike the Rim Rock Trail for 2.14 miles to enjoy the east side of Cherry Creek. Eventually, you will meet with the Creek bottom trail. Take that North for 1.7 miles until you have returned to the Homestead Trail.
2 Mile Loop: When the Homestead Trail meets the Creek Bottom Trail, take the Creek Bottom Trail south for about .7 mile until it intersects with the Cherry Creek Trail. Take this North for 1 mile back to the Lucas Homestead.
Tips & Resources for Hiking Homestead Trail at Castlewood Canyon :
Finding the Trailhead: The West Side entrance can be hard to find. Usually, Colorado state parks have brown signs indicating the park roads. The west side doesn't. But the name of the road you're looking for is "Castlewood Canyon" – easy to remember.
TIP: Hikes in Castlewood Canyon can be quite exposed to the sun, so bring the sunscreen.
TIP: Poison Ivy: We've been surprised how poison ivy flourishes in this park, often along the edge of the trail. Know how to identify it, so that you can avoid it. But don't let that deter you from the park. You just need to keep an eye out. See our post on how to identify and treat poison ivy.
Trail Map for Castlewood Canyon State Park: Trail Map Link
Additional Castlewood Canyon State Park Maps: Other Trails
Colorado Road Conditions: Colorado Road Conditions
After the Hike: Crowfoot Valley Coffee
Weather
Map & Driving Directions
Click for Driving Directions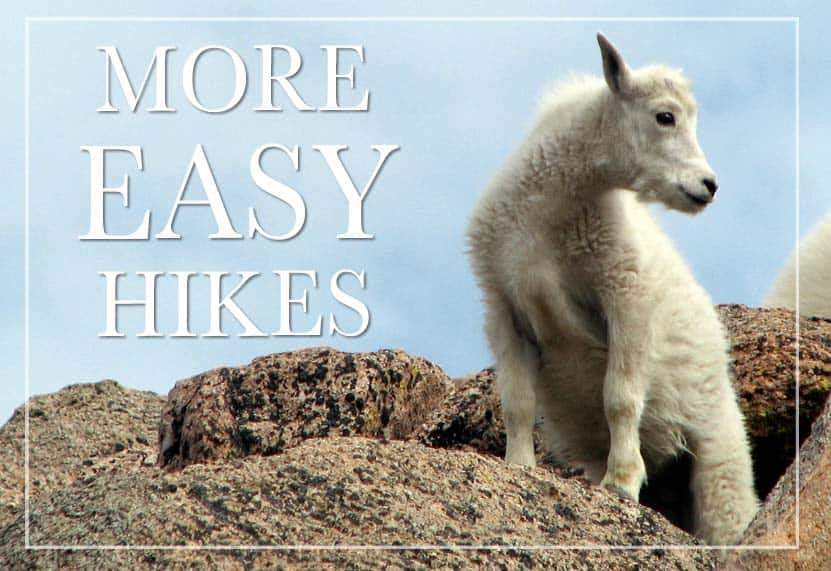 ---
Aaron Johnson has been hiking in Colorado for over 20 years. The owner and editor of Dayhikes Near Denver, Aaron writes every trail profile as a local guide who has hiked hundreds of miles of trails along the Front Range and deep in the Rocky Mountains of Colorado.