This loop hike in Rocky Mountain National Park takes you to four beautiful, subalpine lakes and Alberta Falls, one of the parks most visited and photographed waterfalls. It's a moderate, 6.4 mile hike that will give you a great taste for the breathtaking scenery found in this treasure of our National Parks system. Explore the full hiking trail profile below for trail map, driving directions, and all the details you need to enjoy this adventure in Rocky Mountain National Park.
Trail Snapshot: Alberta Falls + Lake Haiyaha Loop in Rocky Mountain National Park
| | |
| --- | --- |
| Hike Distance | 6.4 miles |
| Difficulty | Moderate |
| Duration | Approx 2 hr |
| Trail Type | Loop |
| Starting Elevation | 9475′ at Trailhead |
| Elevation Gain | Approx. +800′ |
| Seasons | Spring through Fall, Winter Snowshoeing (demanding) |
| Dogs | Prohibited in RMNP |
| Hike Trail Map | Click for a Trail Map |
| Denver Drive Time | 2 hr |
| Driving Directions to Bear Lake Trailhead | Click for Google Map |
| Town Nearest Hike | Estes Park, Colorado |
| Beauty | Sub-alpine lakes, mountain views, wildlife: Abert's squirrel, elk, bear |
| Activities | Picnicking, hiking trails, snowshoeing, photography |
| Conditions at Bear Lake Trailhead | Click Here |
| Fee | Park Pass Required |
Parking & Trailhead Information for Alberta Falls – Lake Haiyaha Loop
This loop hike begins at the Bear Lake Trailhead (driving directions). In the event that parking lot at Bear Lake is full, you'll then need to park at the Park & Ride near the Bierstadt Trailhead and take the bus into the trailhead. This service runs 7am to 7PM and more information on the RMNP shuttle bus routes can be found at this link.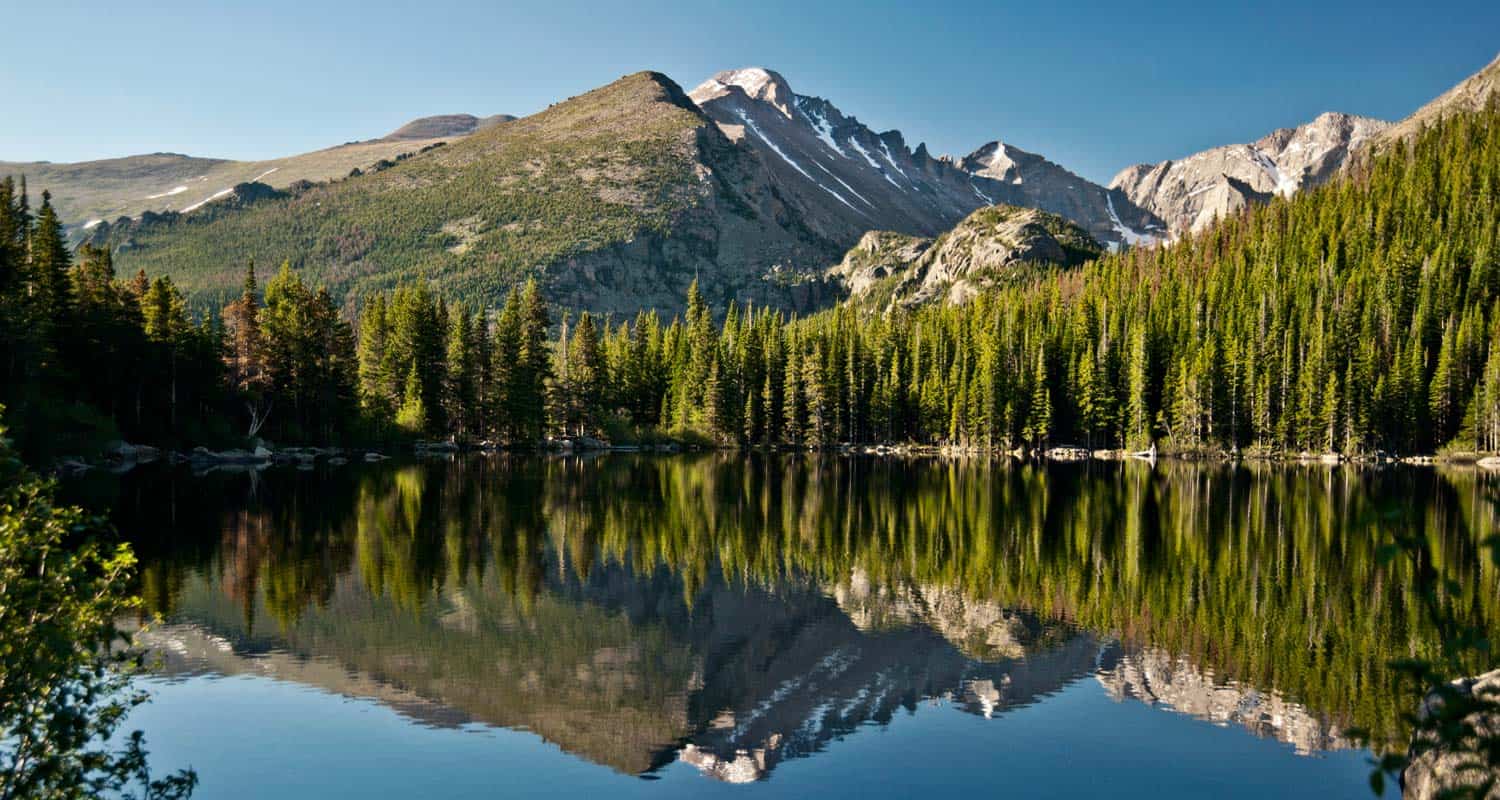 List and Waypoints on the Alberta Falls – Lake Haiyaha Loop Hike
As with any loop, this can be hiked clockwise or counter clockwise. We prefer hiking it clockwise with the following waypoints.
Glacier Gorge Junction – @ 1.7 miles
Loch Vale/Haiyaha Junction – @ 2.2 miles
At less than one mile in, the first destination is Alberta Falls. For more information, visit our Alberta Falls Hike page.
After Alberta Falls, hikers will continue towards Glacier Gorge/Loch Vale until they encounter the first significant trail junction. The correct trail, the Glacier Gorge/Loch Vale trail, bears right and ascends for about another .5 mile to a second trail junction. At this second junction, you will have traveled about 2.2 miles. One trail leads up into Loch Vale and to such destinations as Timberline Falls. However, this loop hikes takes a different path, and hikers will want to follow the trail leading to Lake Haiyaha. The journey to Lake Haiyaha (pictured below) is 2.1 miles from this junction. You can explore a more detailed trail profile on Lake Haiyaha here.
When you near Haiyaha, a trail sign will point the way left, down a short spur to the lake. After visiting Lake Haiyaha, the spur trail will take you back down the to the main trail. The trail to Dream, Nymph, and Bear Lake goes to the left (north. The trail meanders for about 1 mile–mostly downhill–to the next trail junction (pictured below). On this segment hikers will gain views down into the valley that contains Nymph and Bear Lakes.
On the other side of the post pictured above, is a sign indicating that Dream lake is to the left (west), and only .1 mile away. Dream Lake won't disappoint (pictured below). See our full trail profile for Dream Lake.
After your trip to Dream Lake, double-back to head toward Nymph Lake by following signs to Bear Lake. In about .5 mile, hikers will arrive at their fourth destination, Nymph Lake. It's known for the pond lilies that bloom yellow in the summer months. You can explore more trail info on Nymph lake at here.

Finally, after almost six and a half miles of hiking, hikers will return to Bear lake and the Bear Lake Trailhead.
Tips & Resources for Hiking the Alberta Falls – Lake Haiyaha Loop, Colorado
TIP: Trekking Poles in Spring and Winter Because the trail is often in shade, the snow and ice can remain into the early summer months. Because of this, we recommend Trekking Poles and/or Traction Devices for this trail.
Trail Map for Bear Lake Corridor: Trail Map Link
Colorado Road Conditions: Colorado Road Conditions
After the Hike: Poppy's Pizza
Photo: We would like to express our gratitude to several fantastic photographers whose work is featured in this post: Ben Grey, Bear Lake; Miguel Vieira, Lake Haiyaha, Marco Becarra, Dream Lake; Pete Sheffield, Nymph Lake; Bert Cash, Alberta Falls.
Weather
Map & Driving Directions
Click for Driving Directions
---
Aaron Johnson has been hiking in Colorado for over 20 years. The owner and editor of Dayhikes Near Denver, Aaron writes every trail profile as a local guide who has hiked hundreds of miles of trails along the Front Range and deep in the Rocky Mountains of Colorado.