The Maroon Bells offer several hikes and some of the most beautiful scenery in Colorado. It's a Rocky Mountain landscape painted with cascades, lakes, golden aspens, and all against the backdrop of the peaks of the Maroon Bells. This guide to the Maroon Bells features 5 different hiking trail options, spanning from easy hikes to moderately demanding.
We've attempted to create the definitive guide to hiking from the Maroon Bells Trailhead. In this guide, you'll find: Driving directions to Maroon Bells, Trail Maps, Important Shuttle Bus information, Photography tips, Camping information for the Maroon Bells area, and Tips & Resources for planning your Colorado Vacation. This guide to Maroon Bells is extensive, so we have created a table of contents to help you navigate. Have fun exploring!
Maroon Bells Hiking Guide Contents
1. Trail Snapshot
2. Driving Directions
3. Parking & Trailhead
4. Hiking the Trail
5. Maroon Lake Trail
6. The Scenic Loop Trail
7. Maroon Creek Trail
8. The Crater Lake Trail
9. The Willow Lake Trail
10. Photography
11. Hiking with Kids
12. For Out-of-State Hikers
13. Things to Do Nearby
14. History and Geology
15. Protect Maroon Bells
Maroon Bells Hike Snapshot
| | |
| --- | --- |
| Hike Distance | Five Trails: 1 to 13 miles Round Trip – Depending on Trail |
| Difficulty | Easy to Moderate |
| Duration | Depends on Hike (see trails below) |
| Trail Type | Both Loop and Out-and-Back Hikes |
| Starting Elevation | 9500′ |
| Elevation Gain | Nominal up to +3030′ |
| Seasons | Mid-May to Mid-November (weather dependent) |
| Dogs | Allowed On 6′ leash – but Prohibited on the Scenic Loop Trail |
| Hike Trail Map | Click for a Map of Maroon Bells Area Hikes |
| Denver Drive Time | 4 hours |
| Directions | Click for Driving Directions to Maroon Bells |
| Town Nearest Hike | Aspen, Colorado |
| Beauty | Iconic Mountain Views, Lakes, Meadows, Tundra, Fall Aspens, Moose, Beaver, and Elk |
| Activities | Hiking, Backpacking, Camping |
| Fee | Access Fee of $10 per vehicle or individual shuttle bus fee |
Driving Directions to Maroon Bells
Because the Maroon Bells trailhead is one of the heaviest used recreation areas in the state of Colorado, there are some driving and access restrictions during the busy summer months. That's why it's important to carefully read these details before you plan your trip. There are three different sets of driving directions that you may find helpful.
Directions to Maroon Bells in the Summer
From about the mid-June until early October, you can drive Maroon Creek road to the Maroon Bells trailhead before 8am and after 5pm. There is a $10 fee for driving the road, which–especially in Autumn–is one of the more beautiful drives in the country. From 8am to 5pm, visitors must take a 10-15-minute shuttle bus ride to the trailhead. The shuttle lot with free parking is located at Aspen Highlands, a local ski area (here is a link to a Google map and driving directions). However, there is a cost for the bus ride, and beginning in 2016, there a parking fee will be assessed at the Aspen Highlands lot. You can purchase your bus ticket for the Maroon Bells shuttle at Four Mountains Sports, located near the parking area at the base of the ski mountain. The best resource for shuttle information can be found at the RTF Maroon Bells Shuttle page or by calling the USFS Maroon Bells Hotline at (970) 945-3319.
If the Aspen Highlands lot is full–which happens during Summer months–or if you are in Aspen, but without a vehicle, you can take the free Castle/Maroon bus from Ruby Park in Aspen to Aspen Highlands, where can pick up the Maroon Bells shuttle (link and map for directions to Ruby Park).
There are a few exceptions to the 8am-5pm shuttle rule: 1) Handicap registered vehicles, and 2) Vehicles with 11 or more people ($3 fee per person), 3) Vehicles with children age 2 and under, 4) If you are camping at some of the Maroon Bells campsites: Silver Queen, Silver Bar, or Silver Bell, 5) If you are towing a horse trailer.
Even if you fit one of the exceptions, it's important to remember that the Aspen Highlands lots fill up during the busy summer months. Your best bet is simply to get to the trailhea early and to take in the scenery of Maroon Bells in the cool and quiet of the morning, before visitors begin to stream into the area. It's also important to note that if your plans are to backpack and camp in the Maroon-Snowmass Wilderness, you will not be given a parking exception, but will need to take the bus in from the Aspen Highlands lot during the 8am-5pm timeframe.
Another option is to cycle the 8 miles, one-way from Aspen Highlands up to the Maroon-Snowmass trailhead. There is no fee for cyclists, only vehicles. However, it's important to remember that the road is still very busy, even during the 8am-5pm hours when the driving restrictions apply. As with hiking the area, plan to bring proper gear for the frequent afternoon thunderstorms–yet another reason to go early.
Driving Out: It's important to note that if you drive in to the trailhead, you may drive out at any time.
Getting to Maroon Bells During the Rest of the Year
In Late-Spring: From when Maroon Creek road opens, which is historically mid-May, and until mid-June–when the shuttle bus service starts–you are allowed to drive the road from 8am-5pm. Of course, the access fee does apply.
Early October to Mid-November: You can drive Maroon Creek road to the trailhead any day and any time of the week. Again, the access fee applies. Historically, this has begun on Oct. 5th but this is subject to the forest service decisions and weather.
Maroon Bells During the Winter Months: Winter comes in early at this elevation and it holds on well through April. Maroon Creek road is closed during the winter months, beginning in mid-November. Until the road reopens around mid-May of each year, the trailhead is only accessible by hiking in, cross-country skis, or via snowmobile tours. Snowmobile tours can be booked through T-Lazy-7 Ranch. From the gate, the hike/ski in is about 6 miles one-way, and from Aspen Highlands, it's about 8 miles one-way.
Parking and Facilities at the Maroon Bells Trailhead
The Maroon Bells Trailhead–officially titled the Maroon-Snowmass Trailhead–has limited parking and no facilities, except for restrooms. There is plenty of space to lock up your bike on the provided bike racks. There are 35 parking spaces designated for backpackers who are overnighting in the wilderness and you may park for up to 5 consecutive nights in those designated spots. These fill up during the busy season, so be sure to have the shuttle as your plan-b. If you get to Aspen Highlands after the last bus, then you will need to have a plan-c: take a taxi (expensive) in or ask a friend to drive you into the trailhead. Overnight backpackers are not allowed to park in the day-use area.
Guide for Hiking at Maroon Bells
Trail Option #1 – The Maroon Lake Trail at Maroon Bells
Distance: Less than One Mile
Difficulty: Easy
Trail Type: Out & Back
Elevation Gain: Nominal
The Maroon Lake Trail heads out from the trailhead to the northeast side of Maroon Lake (elevation 9580') where hikers can take in iconic views of the peaks of the Maroon Bells reflected in its mirrored waters. Fishing is allowed at Maroon Lake, but a Colorado fishing license is required. Be sure to follow limits and regulations. Bring a picnic lunch and soak in the scenery, which includes aspen groves, Maroon Creek, and surrounding meadows. Do be mindful to stay to the trail as the high amount of foot traffic has a profound impact on the environment. For tips on taking a great photo of the Maroon Bells, check out the Photography at Maroon Bells section below.
Trail Option #2 – The Scenic Loop Trail at Maroon Bells
Distance: 3 Miles
Difficulty: Easy
Trail Type: Lollipop Loop
Elevation Gain: Approx. +120′
Dogs are prohibited because of Moose inhabiting this area.
The Scenic Loop Trail is probably the most popular trail at Maroon Bells, and for good reason: the views are incredible, the loop takes you along the cascades of Maroon creek for much of the hike, and wildflowers spring up at your feet along the trail. A lollipop loop is a hike that begins with a straightaway (part of the out & back hike above), which takes you to a loop on the end. The Scenic Trail Loop begins at a footbridge on the far/west end of the lake. A way up the trail, hikers will notice another footbridge on the right. This can be taken to shorten the trip by crossing the creek then turning right to head back to Maroon Lake and the trailhead. However, the loop trail actually goes further and past some exceptionally beautiful cascades before turning back toward Maroon lake.
Trail Option #3 – The Maroon Creek Trail
Distance: 2.5 or 3.5 Miles – One-Way
Difficulty: Easy
Trail Type: One-Way
Elevation Gain: -870′
Maroon Creek Lake Trail Map: Map Link
If you are looking for a less crowded option, the Maroon Creek Trail may be the best choice. The Maroon Creek Trail winds downhill alongside Maroon Creek for 3.5 miles. Being near water, the chances of seeing wildlife are pretty good. Maroon Creek Trail begins at Maroon Lake and the trail can be picked up by hiking across the footbridge, turning left, then following the trail down into the valley (away from the Maroon Bells). The trail offers two options.
#1 – 2.5 Mile Hike:
Hikers will encounter and cross a bridge at about 2.5 miles into their hike. At this point, a trail off to the left can be taken across the meadow and up to the road where they can catch the bus back to Aspen Highlands or back to the trailhead. Of course, be mindful of the traffic.
#1 – 3.5 Mile Hike:
The second option is to continue on the trail, cross another bridge, then to stay left onto the East Maroon Trail. This will wind downhill a bit further to another area where you can catch the bus along Maroon Creek Road. As you hike, don't forget to stop occasionally to take in the views behind you of the Maroon Bells.
Trail Option #4 – The Crater Lake Trail at Maroon Bells
Distance: 3.6 Miles Round Trip
Difficulty: Moderate
Trail Type: Out & Back
Elevation Gain: +500′
Crater Lake Trail Map: Map Link
The Maroon/Snowmass trail (right of lake) will lead hikers through a meadow and to a forest service bulletin board at the far end of the lake. From this point the correct trail is the West Maroon/Crater Lake trail which leads up through meadows, aspens forests, and scree fields. The trail can be extremely rock, so be sure that you have excellent footwear. The trail will split at about 1.7 miles where the correct trail to follow is the West Maroon/Crater Lake Trail. At this point, Crater Lake is not far away. The trail will eventually dip down into a beautiful basin that holds Crater lake and incredible views of the Maroon Bells. Crater Lake is not stocked or fishable as it is a dead lake. It is also an area that has been negatively impacted by heavy use and poor camping practices. Because of this, camping is now prohibited and great care should be exercised to keep human and canine impact to a minimum.
#2
Trail Option #5 – The Willow Lake Trail at Maroon Bells
Distance: approx. 13 Miles Round Trip
Difficulty: Difficult
Trail Type: Out & Back
Elevation Gain: +3020′ to Willow Pass
Willow Lake Trail Map: Map Link
The Willow Lake trail is demanding and may require an overnight. The trail begins at Maroon Lake and follows the same trails that lead to Crater Lake. At the Crater Lake bulletin board, the trail forks to right and makes its way up through Minnehaha gulch, through alpine meadows and eventually to a trail sign for Maroon-Snowmass/Willow Lake Junction. Here the trail goes to right. Switchbacks lead to top of Willow Pass. After making it over Willow Pass, Willow Lake is a more gradual 1.5 miles further down the trail. This hike is difficult, steep, and more exposed to the regular thunderstorms that form in the afternoons. Camping is prohibited in the meadow near Buckskin Pass, and camping is discouraged at Willow lake. The best option is to camp in the established sites in Minnehaha Gulch.
---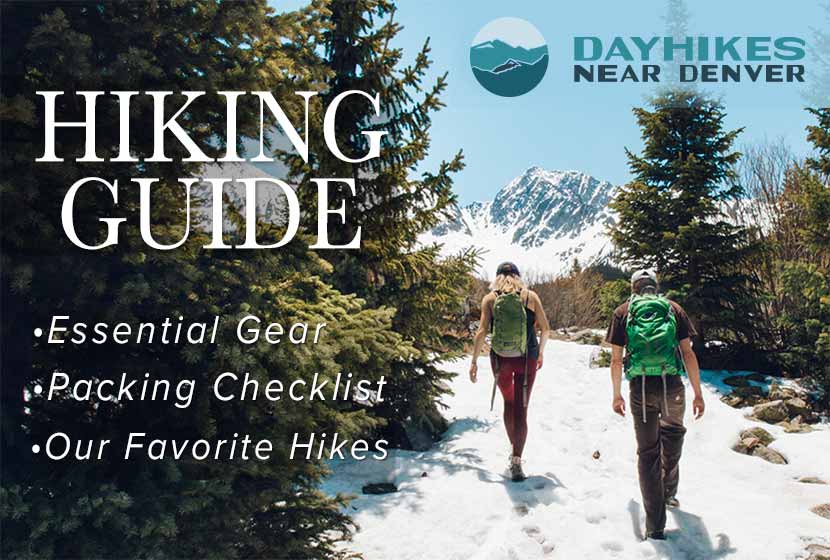 Get our Dayhikes Near Denver Hiking Guide. It includes our favorite hikes near Denver, packing lists, hiking food and snack ideas, and tips for hiking the Front Range of Colorado.
---
Photography: How to Get Great Photos of the Maroon Bells
We would like to thank photographer Jerry Blank for the stunning photo of the Maroon Bells at the top of this post. We asked him for a few photography tips and he emphasized the importance of arriving early in order to 1) get a parking spot, and 2) to get a shot of the water before the wind kicks up ripples on the early morning mirror surface of the lakes. More of his photos can be viewed and prints can be ordered from his galleries at this link.
Fall is the Best Time for Photos: The changing aspens peak in their golden hues during the latter half of September. However, this is just a rule of thumb because much depends on the changing temperature, so it varies from year to year.
Sunrise Shots are Primo: We all have our best side, and the Maroon Bells' best side faces east. This means that the morning sunrise provides the best opportunity for photos.
What Time Should I Get There? Earlier than you think. The shoreline of Maroon Lake fills up fast with tripods, so you'll want to get there well before sunrise.
Dress for the Occasion: Wear your down coat and bring a thermos of hot coffee. The morning breeze and cold temps will conspire to make the wait for sunrise a cold one.
Hiking with Kids at Maroon Bells
ou
Hydrate: We hike a lot with our kids and it's easy for them to get dehydrated, especially in the dry climate and at high altitude in Colorado. Bring water bottles full of water for everyone.
Pack Snacks or Bring a Lunch: The drive back to Maroon Bells takes you pretty far out of town and you'll want to stay a while. Bring snacks or a picnic lunch to refuel while you are exploring.
Choose a Hike with Options: If your children are younger then you may want to begin with the Maroon Lake Trail. If you are still feeling adventurous after that, you could add on all or part of the Scenic Loop. Be aware of Moose and keep your distance from them.
Visiting Maroon Bells From Out-of-State
Download our Hiking Guide for a list of hiking tips, 10 essentials that everyone should pack for their dayhike, and recommended hiking snacks.
Take it Easy: Hiking at altitude (almost 2 miles above sea level at the Maroon Bells trailhead) can be really demanding. Choose a trail that matches your physical shape and be prepared to go at a slower pace.
Don't Drink from Streams or Lakes: There is a misconception that drinking from a mountain stream or lake is the purest water in the world–it's not! Mountain streams and lakes are watering holes for wildlife, especially rodents that carry parasites like giardia and other waterborne infectious diseases that can completely ruin your vacation. All water from these areas should be properly filtered and/or purified.
Camping Near Maroon Bells
There are three established USFS camping areas along Maroon Creek Road on your way in to the Maroon Bells Trailhead. These three are some of the more popular campsites in the state during the summer and fall, so you will want to reserve them well ahead of time. You'll find profiles for the three camping areas below. Reservations can be made at all three campgrounds by calling 1-877-444-6777 or by reserving online at www.recreation.gov
Crater Lake Campground has been closed because of bear activity in the past, so be sure to check to see if it is currently open. However, there are about 20 USFS campgrounds in the White River National Forest area near Aspen. The USFS has a handy camping brochure that can be downloaded at this link.
Silver Bar Campsite
Driving Directions to Silver Bar Campground: Click for Directions
Four primitive walk-in campsites only
Elevation: 8500′
Drinkable water and toilets, as well as picnic tables and fire-grates are available.
Five-day camping limit with 2pm checkout.
Eight-person, two car limit per campsite.
Pets allowed but must be leashed at all times.
Reservable Dates: 5/26 – 9/13
Fees: Camping Fee + Vehicle Fee
Silver Bell Campsite
Driving Directions to Silver Bell Campground: Click for Directions
Fourteen campsites
Elevation: 8350′
Drinkable water and toilets, as well as picnic tables and firegrates are available.
Five-day camping limit with 2pm checkout
Eight-person, two-car limit per campsite.
Pets allowed but must be leashed at all times
30′ RV limit
Reservable Dates: 5/26 – 9/13
Fees: Camping Fee + Vehicle Fee
Silver Queen Campsite
Driving Directions to Silver Queen Campground: Click for Directions
Six campsites
Elevation: 9100′
Drinkable water and toilets, as well as picnic tables and firegrates are available.
Five-day camping limit with 2pm checkout
Eight-person, two-car limit per campsite.
Pets allowed but must be leashed at all times
30′ RV limit
Reservable Dates: 5/26 – 9/13
Fees: Camping Fee + Vehicle Fee
---
---
Backcountry Camping in the Maroon Bells/Snowmass Wilderness
Camping is allowed within the Maroon Bells/Snowmass Wilderness area. Be sure to follow all the Wilderness Use Regulations and Practice Leave No Trace principles.
Camping at the designated spots at Crater Lake is currently allowed, but has been closed in 2014-2015 because of increased bear activity in the area, which is due to poor camping practices. The USFS will close the area again if bear activity becomes problematic.
Bear canisters are required
Self-registration required at the trailhead
Pets allowed but must be on a 6′ leash at all times in the wilderness.
Things to Do Near Maroon Bells
History and Geology of Colorado's Maroon Bells
The brick red color of the Maroon Bells is created by the oxidation of iron in the ancient sedimentary rock that makes up the mountains. They were formed when ancient granite mountains eroded, then were thrust toward the sky in a later mountain building event. Glaciers then cut valleys and cirque lakes, like Maroon Lake and Crater Lake. The Maroon Bells are considered Colorado Fourteeners with North Maroon at 14,014′ and the summit of South Maroon Peak at 14,156′. They are called "the bells" because the shape of the mountains resemble church bells. The surrounding Maroon Bells-Snowmass Wilderness area was one of the first US Wilderness areas established in 1964. The ruins of mine riddle the landscape from the silver mining activity of the late 1800's.
The sedimentary siltstone that makes up the Maroon Bells and nearby mountains, like Pyramid Peak, makes them very dangerous to climb. It's described by climbers as "rotten" rock and very unstable. In fact, in 1965 there were five different climbing accidents on the Maroon Bells, taking the lives of eight climbers. This gave the Maroon Bells the new monicker, the "Deadly Bells". There are yearly accidents and usually deaths on the Bells. Because of this, we recommend that those contemplating an ascent of the Maroon Bells should contact a professional guiding service.
How You Can Protect the Maroon Bells Area
Camp in Designated Spots: Camping has been prohibited at many of the high-mountain lakes in the Maroon Bells-Snowmass area in order to protect these overused and highly impacted environs. The USFS has inventoried over 700 campsites, that have impacted the equivalent of 35 football fields of land. So, be sure to use established camping areas in both the wilderness and along Maroon Creek road.
Keep Out of the Water: People and Dogs can greatly disturb fragile ecosystems in streams and lakes because of detergents and oils on our clothing and skin. The water sources around Maroon Bells are at a much higher risk because of the sheer volume of hiker and backpacker traffic.
Keep Dogs on a 6′ Leash: I have regularly hiked with my dog for years, and have often let her off the leash. But in the last few years, I've become much more aware that man's best friend has a significant impact on the wildlife that make our wilderness areas their home. Even in areas that don't require leashes, I now leash our dog. As much as you would love for your dog to run free, it's important to remember that both we and our dogs are guests in this place and we want to leave the least amount of impact possible. Of course, this is a 6′ leash required area. The Ranger District is now giving special attention to unleashed dogs and writing tickets.
Pack Out All Trash: It should probably go without saying, but be sure to pack out your trash, including both human and dog waste. In 2015 alone, forest rangers packed out over 500 pounds of trash left by visitors to the Maroon Bells-Snowmass area.
Weather
Map & Driving Direction
---
Aaron Johnson has been hiking in Colorado for over 20 years. The owner and editor of Dayhikes Near Denver, Aaron writes every trail profile as a local guide who has hiked hundreds of miles of trails along the Front Range and deep in the Rocky Mountains of Colorado.