Pine Valley Ranch Park has become one of our family's favorite parks near Denver. Pine Valley Ranch Park boasts several hikes, a beautiful lake, a lot of history, a small island with a gazebo, and the best picnic area on the Front Range of Colorado. If that's not enough, the North Fork of the Platte River runs through the park, lined with enormous spruce trees and granite cliffs. Explore the trail profile below for hiking options, trail map, driving directions and more.
Trail Snapshot: Pine Valley Ranch Park Trail
| | |
| --- | --- |
| Hike Distance | 1.2 to 3.2 miles Round Trip |
| Difficulty | Easy to Moderate |
| Duration | Approx 45 min to 2 hr |
| Trail Type | Loops and Out-and-Back |
| Elevation Gain | +500′ |
| Seasons | Best April to November |
| Dogs | Allowed on Leash in the Park |
| Hike Trail Map | Click for a Map of Pine Valley Park |
| Denver Drive Time | 1 hr |
| Directions | Click for Google Map |
| Town Nearest Hike | Pine, Colorado |
| Beauty | Pine Lake, Platte River, bridges, island with gazebo, waterfowl and other birds |
| Activities | Mountain bike trails, fishing, ice skating in winter, pavilions, picnic tables and grills |
| Video | Click For a Video of Pine Valley Ranch Park |
Hiking Options at Pine Valley Ranch Park
#1 – Park View Out-and-Back Hike – Approx. 2 Miles Round Trip
The Park View trail can be located on the other side of Pine Lake (not the far side). Take the narrow gauge trail across the bridge and you'll locate the trailhead just on the other side of a shelter that sits along Pine lake. The trail is moderate to strenuous and will take you up to some great views of the surrounding Pike National forest and the Platte River. You'll get views of the extensive Hayman Burn, the burn scars left from the 2000 fire.
#2 – Full Park View Loop – Approx. 2.5 Miles
If you would like to take a longer loop hike, take the Park view trail (.8 mile) up to the strawberry jack trail (.5), which will connect you to the Buck Gulch trail (.4) which will take you back down to Pine Lake. The Strawberry Jack trail will take you out into Pike National Forest. Be sure to have a map you–which you can pick up at the park–because a wrong turn onto the Buck Gulch Trail can take you far out of the way.
#3 – Pine Lake Loop Hike – Approx. .7 mile
You can take a leisurely hike around Pine Lake at Pine Valley Ranch. Go early (before 7:30AM) to catch site of the birds and wildlife around the lake.
#4 – Narrow Gauge Trail Hike – .5 to 3.8 miles

This is the hike that our kids most enjoy. We like to hike the southeast segment that takes you along the North Fork of the South Platte River. There are willows to pass through, and probably some good trout fishing along the banks. The Narrow Gauge trail stretches about half a mile in this direction and is surrounded by granite cliffs, pine, and spruce.
If you hike the Narrow Gauge trail to the West, you'll follow the river past Pine lake for about 1.5 miles, then can hike it back.
Pine Lake at Pine Valley Ranch Park
Pine Lake packs out with fisherman on the weekend but can be a great quiet escape on the weekdays, especially in the mornings and evenings. The lake has a fishing pier and a great shelter. In the winter months, there is ice fishing and skating. The shoreside shelter at Pine Lake has several picnic tables and a fireplace.
The Best Picnic Area Near Denver

As our family explores hikes and parks near Denver, we get to see a lot of picnic areas. See our Seven Great Picnic Areas Near Denver post. The picnic area at Pine Valley Ranch Park is hands down our favorite. A few reasons why: 1) It's along a river, 2) it's surrounded and shaded by enormous spruce trees, 3) has great facilities: two large covered shelters, and 4) there are a lot of activity options for families.
Tips & Resources for Hiking the Pine Valley Ranch Park:
Gazebo: There are some hidden treasures at Pine Valley Ranch. One you can't miss is the gazebo. Behind the large picnic shelters you'll find a small trail that leads to a bridge. The bridge leads to an small island in the Platte River and a beautiful old gazebo. The island is man-made and was created to contain the domesticated goats that used to roam the ranch.
River's edge: The Platte river can swell and be quite dangerous, especially in the Spring and after heavy rains, so keep a close eye on children along the river's edge.
Eagles: Keep your eyes peeled for bald eagles and osprey
Use sunscreen: Though there are a lot of trees, like most Colorado hikes, most areas are exposed to the sun, so hike early and use sunscreen.
Handicap accessibility: This would be a great place for family with physical limitations or who are wheelchair bound. I should point out that the park is not built around handicap accessibility, but we saw several people fishing from wheelchairs along the lake, and there is a lot of beauty to take in without having to go far or negotiate obstacles.
Historical significance: Pine Valley Ranch is replete with historical significance. The best place to start is to take a tour of Baehrden Lodge, a 27 room estate perched over the top of Pine Valley Ranch Park that is now in the care of Jefferson County Parks.

Carved initials: Look for initials carved into trees a long the paths of Pine Valley Ranch. These go back many decades to when Pine Valley Ranch was a resort and folks would take the train from Denver to escape into the mountains.
Dr. Robert Dudley: We want to express our gratitude to Dr. Robert Dudley, who in the 1970's kept the park from being parceled out to the highest bidder, and to the Jefferson County Parks staff for the care they give to keep Pine Valley Ranch Park available to the public.
After the Hike: Aspen Perk Cafe
Colorado Road Conditions: Colorado Road Conditions
Trail Map for Pine Valley Ranch Park: Trail Map Link
Weather
Map & Driving Directions
Click for Driving Directions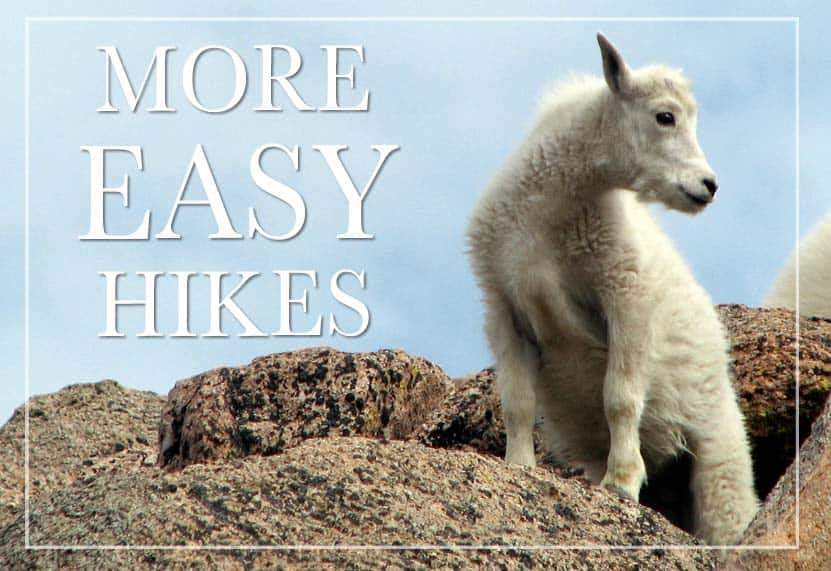 ---
Aaron Johnson has been hiking in Colorado for over 20 years. The owner and editor of Dayhikes Near Denver, Aaron writes every trail profile as a local guide who has hiked hundreds of miles of trails along the Front Range and deep in the Rocky Mountains of Colorado.