At Sprague Lake you'll find an easy loop hike with some stunning views of the mountains that make Rocky Mountain National Park famous. It's a perfect hike in RMNP for young families because the trail is short and has no real elevation gain. With diverse wildlife and a beautiful, peaceful lake, this is one of those spots you should not miss in RMNP. Explore the full Sprague Lake hiking profile below for trail map, driving directions, and all the details you need to enjoy this Colorado adventure in Rocky Mountain National Park.
Trail Snapshot: Sprague Lake Loop in Rocky Mountain National Park
| | |
| --- | --- |
| Hike Distance | 1/2 mile |
| Difficulty | Easy |
| Duration | Approx 30 min |
| Trail Type | Loop |
| Starting Elevation | 8690′ at Trailhead |
| Elevation Gain | Approx +20′ |
| Seasons | Spring through Fall, Winter Snowshoeing |
| Dogs | Prohibited in RMNP |
| Hike Trail Map | Click for a Map of Sprague Lake RMNP |
| Denver Drive Time | 2 hr |
| Driving Directions to Sprague Lake Trailhead | Click for Google Map |
| Town Nearest Hike | Estes Park, Colorado |
| Beauty | Sub-alpine lake, mountain views, wildlife: Abert's squirrel, elk, bear, beavers, waterfowl, moose, ducks, Canadian geese |
| Activities | Picnicking, hiking trails, snowshoeing |
| Conditions at Bear Lake Trailhead | Click Here |
| Fee | Park Pass Required |
Sprague Lake Loop Hike
Sprague Lake is a 13-acre lake named after Abner Sprague, an early resident of the Estes Park area who ran a game lodge on the this property which is now part of Rocky Mountain National Park. To access the 1/2 mile loop hike around Sprague Lake, cross the bridge near the parking area. Be sure to pause at the bridge to look for trout. We've spotted an enormous brown trout motoring in these waters near the bridge. It's a regular spawning area in the autumn, so this little segment of water can become quite crowded with fish.
After the bridge, the trail can be hiked to either the left or the right around the perimeter of Sprague Lake. Keep your eyes peeled for Beaver and Moose, both residents of the area. You will be more likely to spot wildlife in the early morning hours.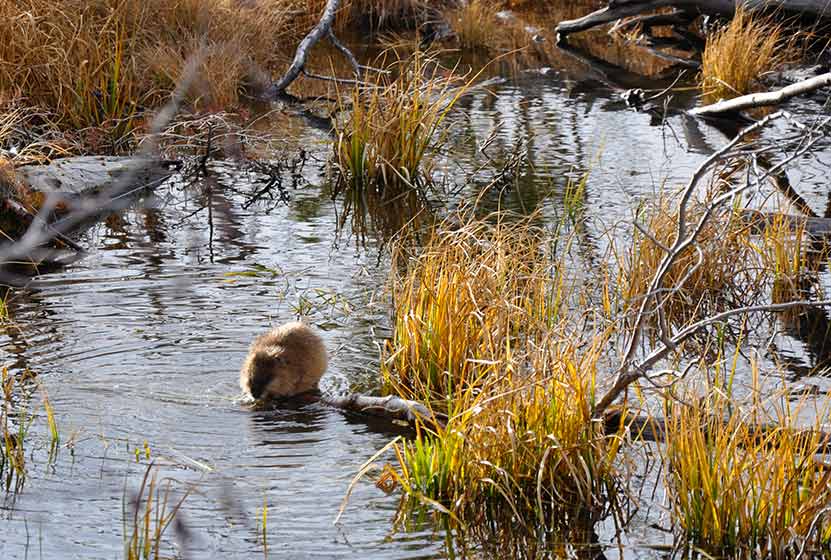 A Beaver at Sprague Lake RMNP
In the early spring, the trail will likely still be under snow. However, this is such a popular area that it should be easy to spot the trail left by others. As you make your way to the northeastern rim of Sprague Lake, you'll gain views of the continental divide, including Hallett Peak. This is a perfect spot to set up your camera for an iconic photo of RMNP.
In the Fall, this is one of the better spots in Rocky Mountain National Park to view the aspen trees changing on the distant mountains.
Tips & Resources for Hiking to Sprague Lake :
TIP: Hiking shoes are recommended if you hike during early spring or late winter as you might need to pass through snow on the trail.
TIP: If you get out early on a spring morning, you might be lucky enough to spot a moose or more.
Rocky Mountain National Park Trail Conditions: Click for RMNP Trail Conditions
Trail Map for Bear Lake Corridor: Trail Map Link
Colorado Road Conditions: Colorado Road Conditions
After the Hike: Poppy's Pizza
Photo: We would like to express our gratitude to Tim Stacks for sharing such a beautiful photograph of this hike at Sprague Lake.
Weather
Map & Driving Directions
Click for Driving Directions
---
Aaron Johnson has been hiking in Colorado for over 20 years. The owner and editor of Dayhikes Near Denver, Aaron writes every trail profile as a local guide who has hiked hundreds of miles of trails along the Front Range and deep in the Rocky Mountains of Colorado.