Kenosha Pass is probably the best place to view the changing aspens near Denver. It offers both an East and West trail option with gradual ascents to stunning views. Starting at 10,000′ the initial elevation gain on the trails make for easy to moderately strenuous hikes, all depending on how far one decides to travel on these beautiful segments of the Colorado Trail. Vantage points can be accessed about 1/2 mile up both trails offering views down into the high country plains of South Park and out to the Rocky Mountains. Explore the full Kenosha Pass hike profile below for trail map, driving directions, and more tips and details to help you enjoy this Colorado hike.
Trail Snapshot: Kenosha Pass Colorado
| | |
| --- | --- |
| Hike Distance | <1 to 14.4 miles Round Trip |
| Difficulty | Easy to Moderate |
| Duration | Depends on Segment Hiked |
| Trail Type | Out and Back |
| Starting Elevation | 10,000′ |
| Elevation Gain | Approx +400′ for shorter hikes |
| Seasons | Year Round |
| Dogs | Allowed On Leash |
| Hike Trail Map | Click for a Map of Kenosha Pass |
| Denver Drive Time | 1 hr 30 min |
| Driving Directions to Kenosha Pass East Parking Area | Click for Google Map |
| Town Nearest Hike | Grant, Colorado |
| Beauty | aspen groves, creek, wildflowers, mountain range views, views of South Park, wildlife: moose |
| Activities | Hiking, mountain biking, horseback riding, photography, snowshoeing, camping |
Parking & Trailhead Information for Kenosha Pass Hike
Kenosha Pass is located about 65 miles southwest of Denver along US 285. From Denver, take US 285 towards Bailey, Colorado. From Bailey, continue driving approximately 19 miles on 285 to the Kenosha Pass Trailhead. The trailhead parking area is located on both East (left when coming from Denver) and West (right side when coming from Denver) of 285. There is additional parking on the East side after crossing a cattle gate. Parking can get tight in the Autumn when the aspens are at their peak, so be considerate of others and the land as you park your vehicle. It's about a 90 minute drive from Denver. Restrooms can be found on both trailheads.
Hiking the Kenosha Pass Trail
Two Hiking Options and Where the Trails Begin
The hiking trails at Kenosha Pass easy to moderate in difficulty and can be done by hikers of all experience levels. At Kenosha Pass, the Colorado Trail, which goes from Denver to Durango, intersects with US Highway 285. This creates an East side trail option and an West side trail option. Both offer incredible views down into the South Park plains of Colorado and out to the often snow-capped peaks of the Mosquito Range.
Hiking the East Side of Kenosha Pass
Hikers can pick up the Colorado Trail after crossing the cattle gate (if parked along 285) and hiking along the dirt road that leads to the restrooms that are near the 2nd parking area (after the cattle gate). The Trailhead is located just before the 2nd parking area, and will be located on the right (south). While most visitors park, take a jaunt into the aspens, snap a few photos and leave, the more stunning views await those who venture further south along the trail. The initial trail segment enters with a gradual ascent into the aspens, then at 1/2 a mile into the hike the woods opens up to incredible views into South Park.
South Park is a high mountains plains area that stretches out mile-upon-mile to its western and norther mountain borders, the Collegiate Peaks and the Mosquito Range of the Rocky Mountains. The climb continues at a gradual pace and hikers will emerge to a second panorama at 1.5 miles. This is a great place to turn-around, making it into a 3 mile out-ant-back hike. Of course, hikers can continue on the trail all the way back into Denver, but that requires a multi-day backpacking trip. As always, keep eyes peeled for changing weather, and pack the 10 Essentials. If you are wondering what should be in your daypack, be sure to download our free Dayhike Hiking and Packing Guide. As for wildlife, moose are often spotted on this side along the lake near the trailhead.
Hiking the West Side of Kenosha Pass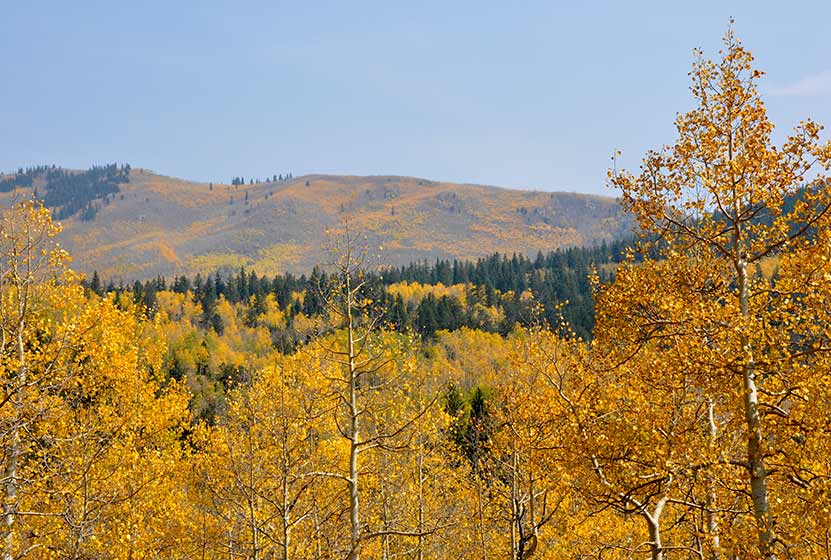 The West Side Trail at Kenosha Pass can be picked up immediately on the West side of 285. The trail enters conifer and aspen forest, making a gentle climb toward the northwest until popping out of the trees to breathtaking views down into South Park and the Mosquito Range. After this viewpoint, the trail travels a short distance uphill, then makes its way down toward Guernsey Creek. The distance from the trailhead to Guernsey Creek is approximately 3 miles, making this a 6 mile out-and-back adventure. Because this is the Colorado Trail, it does continue west, offering multi-day backpacking options that lead all the way to Durango, Colorado.
Tips & Resources for Hiking the Kenosha Pass Trail
Weather
Map & Driving Directions to Kenosha Pass
Click for Driving Directions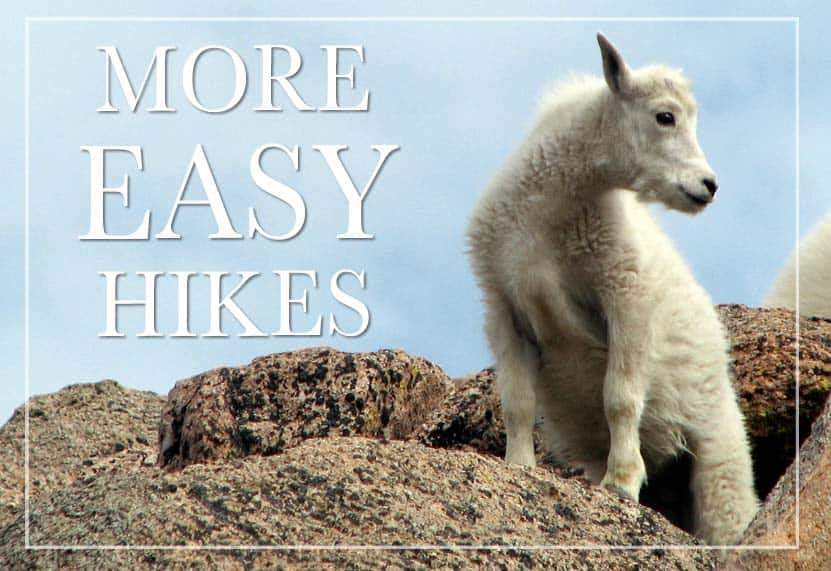 ---
Aaron Johnson has been hiking in Colorado for over 20 years. The owner and editor of Dayhikes Near Denver, Aaron writes every trail profile as a local guide who has hiked hundreds of miles of trails along the Front Range and deep in the Rocky Mountains of Colorado.