Colorado's Echo Lake is looped by an easy hiking trail and serves as a trailhead to even more classic Colorado hikes. When we have friends and family visiting Colorado from out of town, this is one of best destinations for a great views. Go early to Echo Lake to get perfect photos of Mount Evans reflected in the water. Explore the full hike profile below that will give you driving directions from Denver, a trail map, and all the information you need to launch out on this adventure.
Trail Snapshot: Echo Lake Near Mt. Evans
| | |
| --- | --- |
| Hike Distance | Less than 1/4 Mile |
| Difficulty | Easy (but consider altitude) |
| Duration | 15 min |
| Trail Type | Out and Back |
| Elevation | 10,600′ |
| Seasons | Spring to Fall |
| Dogs | Dogs Allowed on Leash |
| Hike Trail Map | Click Here for a Trail Map |
| Denver Drive Time | 1 hr |
| Directions | Click for Google Map |
| Town Nearest Hike | Idaho Springs, Colorado |
| Beauty | Lakes, Mountain Peak Views, Wildlife: Ducks and Geese |
| Activities | Fishing, Picnic Areas, Hiking, Connections to other hikes, Visitor Center, Camping |
Echo Lake Area
A great Colorado park to take visiting family and friends. It's an hour from Denver and has very short trail, but it's a great place to introduce others to the beauty of the Rocky Mountains and to take in a high Colorado lake. The trail circles Echo Lake and connects to several other trails: Chicago Lakes, Bear Track Lakes trails, which give you access to Mount Evans Wilderness Area which is full of other great hiking trails,and Mt. Evans summit.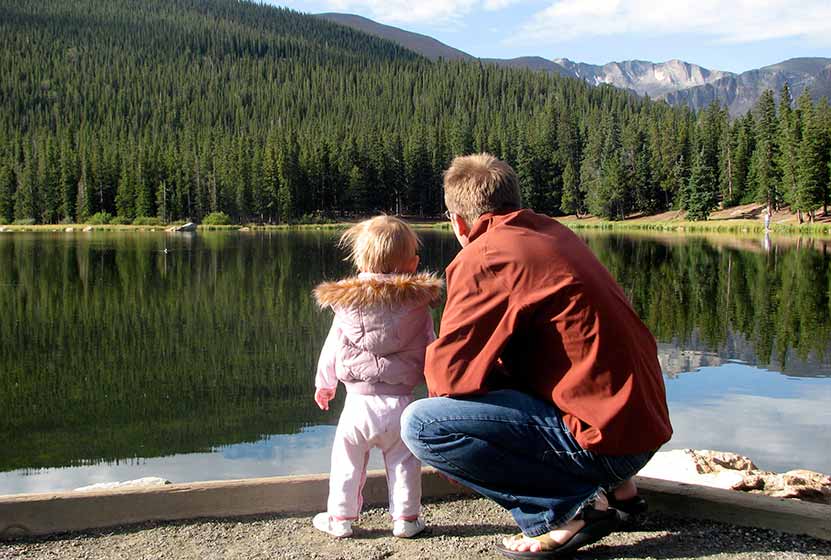 Near the parking area, you'll find a stone picnic shelter which was built in 1937. When the weather is getting hot, it's a great place for a picnic or a wonderful place to break out the hot chocolate on a snowy winter day.
If you are looking for more Colorado lake hikes, be sure to check out our Lake Hikes Near Denver page.
Echo Lake Colorado Camping
There are great camping opportunities at the Echo Lake Campground near the lake. Near the shores is a spruce forest. For detailed information on camping near Echo Lake in Mt. Evans, see the Recreation.gov page.
Tips & Resources for Hiking Echo Lake, Colorado :
TIP: Early morning means that Echo lake is still, providing no windy weather, and is a perfect time to photograph or just to observe the rocky mountains reflected in the water.
TIP: A nice short Colorado hike can be made by parking at the parking lot (see map above & below), and hiking around the lake to the Historic Echo Lake Lodge. Visit there, then turn around and enjoy the lake on the way back again.
TIP: When you finish, drive up to the summit and enjoy the view from the top of Mt. Evans. Or visit Summit Lake Park
TIP: One of our favorite day-trips with visitors who are not from Colorado, is to take them to Echo Lake, Mt. Evans Summit (by car), then into Evergreen for Pizza at Beaujos Pizza
TIP: In regards to driving to the top of Mt. Evans: We avoid bringing friends who are not in good health. Be sure to have your guests drink plenty of water, and make sure they have had a day or two to get used to the altitude in the mile-high city.
Weather: The Weather link below is for Idaho Springs. Weather at the altitude of Echo Lake may be very different, and Weather at the summit will definitely be different. Check this National Weather Service Link for more accurate forecasts.
After the Hike: After The Hike: Beaujos in Evergreen
Looking for something more adventurous? Try the Chicago Lakes Hike. It starts in the same parking lot.
Trail Map for Echo Lake Park: Trail Map Link
Colorado Road Conditions: Colorado Road Conditions
---
Aaron Johnson has been hiking in Colorado for over 20 years. The owner and editor of Dayhikes Near Denver, Aaron writes every trail profile as a local guide who has hiked hundreds of miles of trails along the Front Range and deep in the Rocky Mountains of Colorado.