Where can you find waterfalls near Denver? This collection of seven waterfalls are all within about a 1 hour drive waterfalls from the Denver. Trails to the waterfalls in this collection range from just 100 yards to 5.5 miles one-way. Each of the waterfall hikes have a more detailed trail profile with driving directions, maps, and tips for making the most of your adventure. Because the landscape near Denver is not as dramatic as other parts of Colorado, we have a limited number of waterfalls close to town. However, Dayhikes Near Denver has trail profiles for more than 30 Colorado waterfall hikes on our site, so be sure to see our full set of Colorado Waterfall hikes on our Dayhikes Near Denver Waterfalls page. There you'll find waterfalls in Rocky Mountain National Park–just 2 hours away–and many others located the farther reaches of our beautiful state of Colorado.
Distance: 11 miles Round Trip
Drive Time from Denver: 50 Minutes
Difficulty: Moderate to Difficult
We'll start with the most difficult hike to a waterfall near Denver,–but one that's worth the 11 mile round-trip journey to see because it has the highest drop. Elk Falls was unknown to most until opened to the public in 2013 with the creation of a new Colorado State Park, Staunton State Park. Overall it's a long but moderate hike to the Elk Falls Overlook. Explore our full trail profile for more detailed information.

Distance: 2 1/2 miles Round Trip
Drive Time from Denver: 1 Hour
Difficulty: Moderate
Eldorado Cascades, along with Forsythe Canyon Falls (see below) is one of the lesser known waterfalls near Denver. Found along the Walker Ranch loop, this clamorous cascade dives under giant boulders then gushes out on the other side. Hikers can take this in as a part of the larger Walker Ranch Loop hike, or as a shorter 1.25 mile (one-way) hike in from the Ethel Harrold Trailhead.

Distance: 200+ Yards Round Trip
Drive Time from Denver: 50 Minutes
Difficulty: Easy
Boulder Falls dives over 60′ from a cliff face in Boulder Canyon. It's about an 100 yard walk from the parking pull-off area along Boulder Canyon Drive. Because of the 2013 flood damage, the trail had been closed for repairs, and in late 2019 closed again due to road repair work. Boulder falls reopened June 13th 2020 with a newly paved parking area, so it is again accessible. This waterfall and the next are the most accessible waterfalls near Denver.

Distance: 1/4 mile Round Trip
Drive Time from Denver: 50 Minutes
Difficulty: Easy to Moderate
Named Castlewood Canyon Falls or Cherry Creek Falls, this waterfall is probably the most accessible waterfalls near Denver, just .17 mile from the parking area. It's at its peak in the Spring after a good rain. Be sure to get the details from our full hike profile and explore the many other trails in Castlewood Canyon.

Distance: 1/4 mile Round Trip
Drive Time from Denver: 45 Minutes
Difficulty: Easy
Bridal Veil Falls is the second highest waterfall in this collection (Elk Falls being the tallest). The hike to Bridal Veil falls is just a short jaunt on a concrete path to Water Wheel Park, which is being renovated and is scheduled to reopen in June of 2016. What makes this waterfall unusual is that it's right in the town of Idaho Springs, much like Cornet Falls in Telluride. While not a trip into the Colorado wilderness, Bridal Veil falls boasts the interesting history of gold mining, an old steam locomotive, and restored water wheel.

---
Looking for more waterfalls near Denver? Explore our more than 50 Colorado Waterfall Hikes, our favorite Waterfall Hikes in Rocky Mountain National Park, or 7 Waterfalls within One Hour of Denver.
---
Distance: 1.6 to 4 miles Round Trip
Drive Time from Denver: 50 Minutes
Difficulty: Moderate
Maxwell Falls has become one of the most popular waterfall hikes near Denver. Best viewed in the late Spring and early Summer, this tiered fan waterfall can be accessed by either a .8 mile trail that leads directly in, or by one of two different loop hikes. Because the trails at Maxwell Falls get a lot of visitors, be sure to get there early, pick up trash when you see it, and keep your pup leashed (though it's a USFS area, the county dog regulations apply here). See our trail profile for more details.There is a lower falls further down the trail. It's just worth noting and worth taking if you are making the full hike.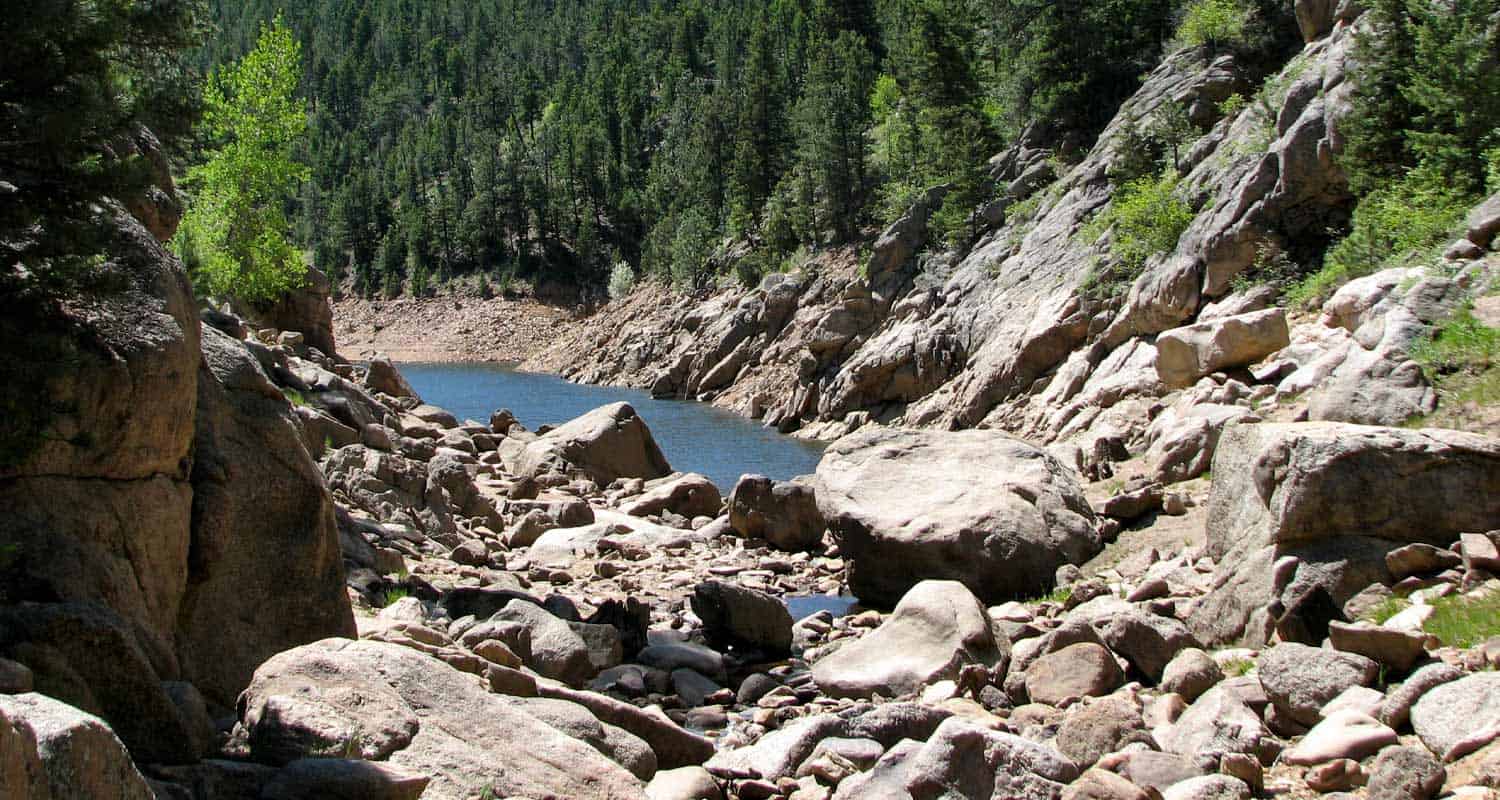 Distance: 2 miles Round Trip
Drive Time from Denver: 1 Hour 15 Minutes
Difficulty: Easy
Forsythe Canyon Falls is tucked away in a canyon southwest of Boulder near Gross Reservoir. A few highlights: Forsythe Canyon offers a lot of shade, the waterfall is found in unique pinch in the canyon, and the trail ends at Gross Reservoir, a beautiful site. We've found this to be a lesser visited hike, and a great alternative to some of the busier trails.

Map of 7 Waterfall Hikes About 1 Hour of Denver
---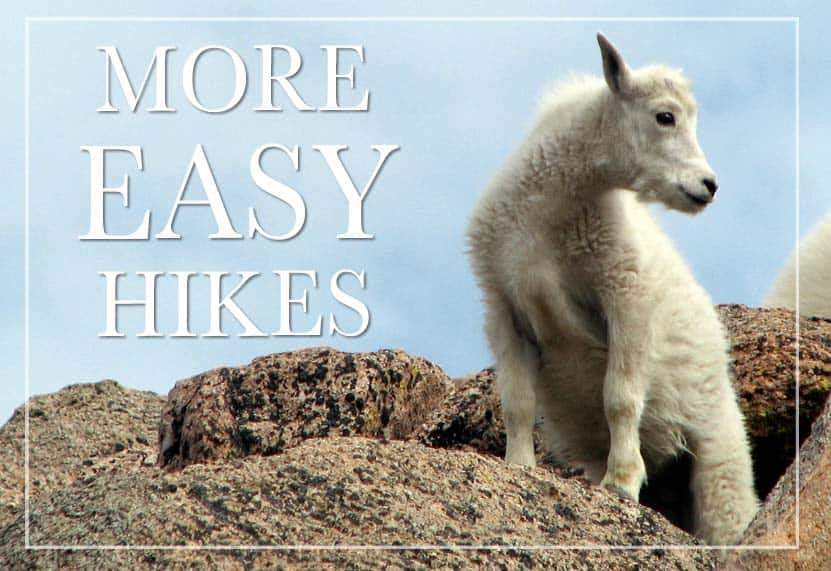 ---
Aaron Johnson has been hiking in Colorado for over 20 years. The owner and editor of Dayhikes Near Denver, Aaron writes every trail profile as a local guide who has hiked hundreds of miles of trails along the Front Range and deep in the Rocky Mountains of Colorado.